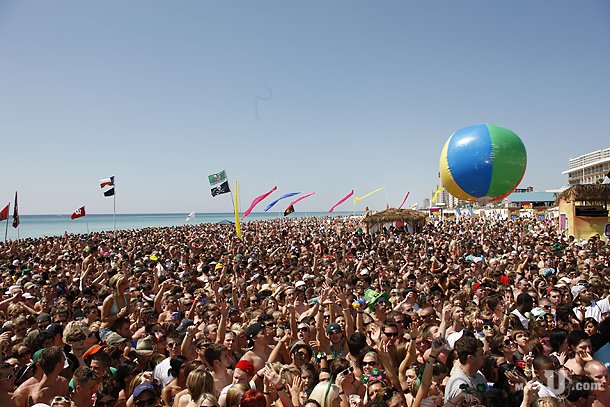 West Long Branch, N.J. (The Verge) – For the past few weeks, many students have been asking themselves "Is it spring break yet?" Fortunately for them, it finally is! Monmouth students plan to spend their spring break in a variety of ways.
Spring Break is one of the most common times for students to go on vacation. Many students are planning on going to typical party destinations with friends, such as Panama City,Florida and Daytona Beach,Florida. Students who are going here also plan on going to the beach during the day.
While some students plan on partying in Florida, other students plan on traveling with their families. Freshman Courtney Carr plans on traveling to Disney World while Ryan Kinghorn, also a freshman, plans on traveling to Tampa to see some Yankees spring training games.
Some students are deciding to take a "staycation" this spring break by relaxing at home. Many people  plan on just relaxing and catching up on sleep during break, and eating good food.
For students that are staying home over break, the weather will start out chilly on Saturday, but should lead to a significant warm up starting on Sunday March 11th. According to The Weather Channel, most of New Jersey should enjoy dry conditions throughout next week with highs in the 60's and 70's. The weather will be great for those who want to spend some time outside.
Some students are deciding to join the recent trend of taking an Alternative Spring Break. "Alternative Spring Break" is a mission trip that is done by college students. 20 Monmouth University students plan on traveling to ChiChicastenango,Guatemala for ten days to complete two different service projects. Their goal is to build a medical clinic and a school for the children in Chi Chi.
However, this is not a definite plan. Junior Alexa Anastasio says that the group has to be flexible because in past years the group planned on only building a clinic, but ended up encountering another service project unexpectedly. "I have done multiple service projects in my community," Anastasio said, "and I chose to go on the Guatemalan service trip because I want to make a difference on a bigger scale." Alexa also mentioned that this would be the first time that she would be outside of the United States.
Monmouth students plan on using spring break as a time to relax for school work. For those planning on sleeping in,  it is important to set your clocks an hour ahead on Sunday for Daylight Savings Time.