Normal
0
false
false
false
MicrosoftInternetExplorer4
st1\:*{behavior:url(#ieooui) }
/* Style Definitions */
table.MsoNormalTable
{mso-style-name:"Table Normal";
mso-tstyle-rowband-size:0;
mso-tstyle-colband-size:0;
mso-style-noshow:yes;
mso-style-parent:"";
mso-padding-alt:0in 5.4pt 0in 5.4pt;
mso-para-margin:0in;
mso-para-margin-bottom:.0001pt;
mso-pagination:widow-orphan;
font-size:10.0pt;
font-family:"Times New Roman";
mso-ansi-language:#0400;
mso-fareast-language:#0400;
mso-bidi-language:#0400;}
(The Verge) – New Jersey Repertory Company presents Noir, a new play written by Stan Werse and directed by Marc Geller. This mysterious detective drama stars Darrell Glasgow, Thomas Grube, Catherine LeFrere, and Michael McCoy.
Although many might think that theatre arts is strictly limited to Broadway in New York City, you will be pleasantly surprised upon visiting NJ Rep's cozy theatre right around the corner at 179 Broadway in Long Branch.
Rather than purchasing tickets to see a show, you make a reservation, which is a clever way to save on production costs and also remain eco-friendly. The set of Noir was dark, made of grey stonewalls, a few eerie doorways, and spherical police bulb perched in the top left corner of the stage.
During the pre-show, soft jazz music played, setting the scene mysteriously. Executive Director Gabor Barabas made an appearance in front of the stage to point guests to their seats, and welcome the audience to the show. This specialized touch makes this theatre personalized, and the limited seating ensures that all audience members can see and hear the action on stage. Before the show began, Barabas informed the audience that all cigarettes used on stage were completely tobacco-free, herbal cigarettes – but keep not the type of 'herbal' the crowd might be thinking of, he joked.


Detective McQue (Michael McCoy) stood alone on stage at the play's opening, with a dim light keeping him partially in shadow, alluding to the mystery that was about to develop. McCue is known as a big brute on the force, dim-witted and under appreciated. He narrates the play, and reveals that his character offers much more than meets the eye.
After an introduction by McCue, Noir's credits were projected onto the back wall, in an old-fashioned filmstrip style. The setting is New York City, 1950. Norbert Grimes (Thomas Grube) is the force's lieutenant, and he has the quick wit and energy of a city cop. His New York accent along with his fast paced line delivery made his character convincing, and highly entertaining.
Grimes introduced a new detective to McCue, the talk of the town Clay Holden, a young man with a lot of ambition. He was made detective after only just one year as a cop, an impressive feat to Grimes, who reminds his men several times of his most important rule, "You gotta back up your partner no matter what."
Holden's past as a cop is a little murky, and he is ready to prove himself and straighten his reputation as a law enforcement official. He does not get very far however, before he meets Ms. Helen Lydecker (Catherine LeFrere), a flirty, furtive young woman who entices Holden's attention immediately. LeFrere's style is classic, and proper, and her bold dark lipstick and sauntering walk leave the young detective smitten. McQue tells the audience that the pair, "became friendly…very friendly."
Mystery surrounds Lydecker's past, as she attempts to hide from it in the city, and she asks Holden for his help. Holden must decide which case is most important to solve, or even whether he should agree to take on the job in the first place…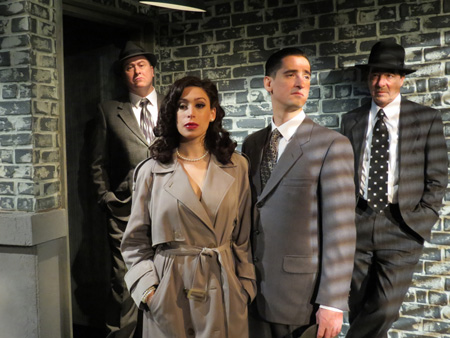 Noir is a classic detective mystery. With so few actors, the play is brought to life through their intensity, and quick New York City attitudes. Noir is a play that can be appreciated by a wide audience, and is especially convenient to students who are interested in fulfilling any theatre or cultural requirements for various courses at MU.
NJ Rep is a professional, non-profit theatre that produces shows year-round, and is a member of the National New Play Network, The New Jersey Theatre Alliance, Theatre Communications Group, and the Monmouth and Long Branch Arts Councils. The theatre produces almost exclusively new plays, so there are shows performed here that you may not catch anywhere else.
Detective McQue reminds the audience at the close, "You're supposed to back up your partner…even your partner in crime." For a night of mystery, suspicion and crime, check out NJ Rep's production of Noir, up until Friday May 5th.
Visit www.njrep.org for more details, or call 732-229-3166.