WEST LONG BRANCH, N.J.–From Monday, March 28, to Sunday, April 3, Monmouth University's professional business fraternity Alpha Kappa Psi hosted their annual Business Week.
The week's events were open to all Monmouth students and their friends, and consisted of fundraisers, seminars, tutorials, and tips for success in the business world.  In keeping with the theme of the week, "Keys to Success," which was influenced by DJ Khaled, Alpha Kappa Psi certainly succeeded when considering the turnout at the Business Week events.
The first event of Business Week was a fundraiser for the fraternity, a sports raffle.  Students were asked to guess the number of jelly beans in a jar to win a Yankees or Mets windbreaker–just in time for the start of baseball season.
The next day, Alpha Kappa Psi had special guest Holly Migliaccio come speak about her success in entrepreneurship and the business world.  Migliaccio is the owner and co-founder of Rook Coffee, a local coffee hot-spot frequented by Monmouth students.
Migliaccio talked about how she started her company and how she became so successful in a short period of time. She shared her own keys to success: knowing your strengths, being human and genuine, and staying focused.
The next day of Business Week, Wednesday March 30, was packed with different events.  With the help of Career Services, Alpha Kappa Psi hosted an event with the CEO of iCims, Colin Day. Day arrived on campus ready to talk about his views on finding a dream job, as well as to give tips for standing out in the resume submission/interview process. Day's three keys to success are having luck, surrounding yourself with entrepreneurship, and maintaining determination with a sense of humility.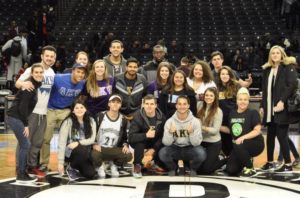 Wednesday was also the day of the Career Carousel event that Alpha Kappa Psi co-sponsered with Career Services and Residential Life.  During this event, there were a variety of workshops that helped people make impactful resumes, fix common resume mistakes, and create a professional LinkedIn profile.
The next day, brother Nikki Banks hosted a make-up event that was open to all Monmouth students. While raising money for the fraternity, Banks taught people how to perfect a light and professional makeup look for the office, and how to turn it into makeup for a night out.
Relay for Life was Friday's event. Hosted by Colleges Against Cancer, the event involved brothers raising money for the American Cancer Society and raising awareness about cancer.
On Saturday, Alpha Kappa Psi alumni made their way back to campus and shared their experiences with the business world through an alumni panel. David Quinones III, Nikolas Trenchi, Samantha Hopkins, Alissa Mustillo, and Brianne Pangaro all shared insight and tips for getting that first job out of college. They also gave some do's and don't's of using social media and building relationships with coworkers.
Later that night was Acafest, an a capella competition co-sponsored with Monmouth's Sea Sharps. A portion of the profits from this event went to Alpha Kappa Psi's philanthropy, Habitat for Humanity.
To wrap up Business Week, the brothers of Alpha Kappa Psi attended a Brooklyn Nets game, where they spoke with Executive Director of Nets Ticket Sales and Services Tom Bowden and Group Sales Account Manager Lisa Pikaard. Both Bowden and Pikaard imparted information about how competitive the sports business is and about marketing, sales, and promotions. Bowden's keys to success for working in sports are to be aggressive, approachable, and likable.
With ample events and attendees, Business Week 2016 was a great success for Alpha Kappa Psi.  However, attendees who were able to interact with experienced people from the business world and absorb their input on what it takes to be successful also benefited. If you weren't part of this latter group and missed Business Week this year, you can always attend next year. Keep an eye out for dates to be announced later near the end of 2016.