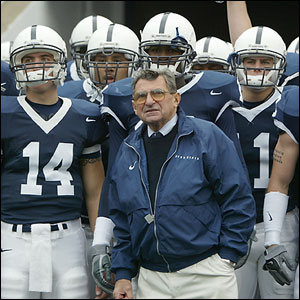 It was spiraling breaking news that hit fans hard, as they found out that "JoePa" a celebrity like figure in the college football world was dismissed from Penn State University.  Almost a month ago Saturday, November 12, 2011 was the first Saturday in 46 years that Joe Paterno was not the head coach of Penn State's football team. 
According to the Penn State University official athletic website it states in Paterno's credentials; entering his 46th year pacing the sidelines as head coach of the Nittany Lions, Paterno has faced every situation imaginable on the gridiron and has used his preparation, experience and understanding of the game he loves to respond and keep the Penn State program among the nation's elite for the past four decades.  However, this is not the case as of recent news.  Penn State trustees fired football coach Joe Paterno and university president Graham Spanier over a dispute on how the school handled sex abuse allegations against an assistant coach.  This dismissal was done via telephone.  The defensive coordinator Tom Bradley will take over as interim head coach.
In 2002 the Nittany Lions assistant coach Jerry Sandusky sexually assaulted male minors and head coach Paterno was aware of these foul actions.  Paterno is being fired for not taking more action in 2002 after then-graduate assistant and current assistant coach Mike McQueary came to him and reported seeing Jerry Sandusky in the Penn State showers with a 10-year-old boy. Paterno notified the athletic director, Tim Curley, and a vice president, Gary Schultz.  It is clear that Paterno did take control of the situation by addressing the Athletic Director, with the circumstance.  However, the question is, why Paterno and other top school officials didn't go to police in 2002 after being told a graduate assistant saw Sandusky assaulting a boy in a school shower?  This is the massive controversial issue that has lead to this shocking story of Paternos ending career.
Joe Paterno is cooperating with the situation stating "I am disappointed with the Board of Trustees' decision, but I have to accept it".  But the fans and students of the Nittany Lions did not cooperate as well.  After the announcements about Spanier and Paterno, the news conference immediately filled with angry questions that were shouted at John Surma Jr., the vice chairman of the board, who responded to them while the other board members sat behind him and to his sides. One cameraman repeatedly said, "Your campus is going to burn tonight." Riots and rallies broke out after the news was announced.  Penn State students flooded the university in disbelief and despair trying to understand the shocking decision. Ruckus took over as lamp posts were knocked down, cars were flipped and windows were smashed in.  It is obvious how the Penn State family feels of the decision, but no one really has a grasp of what the correct decision should have been. 
"I just don't think it's right that JoePa's losing his job," Corey Davis, a 23-year-old senior studying international politics, said. "All the facts aren't out, we don't even know he's done anything wrong. Joe's the fall guy."
Fox Sports explained that the firing by the man affectionately known as "JoePa" brings to an end one of the most storied coaching careers, not just in college football but in all of sports. Paterno has 409 victories; a record for major college football ; won two national titles and guided five teams to unbeaten, untied seasons. He reached 300 wins faster than any other coach.  His family donated more than $4 million to the university, helping fund scholarships, faculty positions and the construction of a library that bears his name.  Should his winning career be tarnished by some else's gruesome actions?   Now that is controversy has been going on for more than a month, what are your thoughts?