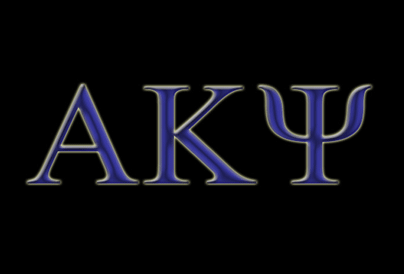 West Long Branch, NJ  (The Verge)- Alpha Kappa Psi is the first professional, co-ed, business fraternity to come to Monmouth University, and has recently founded a chapter on campus.
The newest addition to Greek life on campus is unlike the other sororities and fraternities on at Monmouth University; it welcomes both men and women, of all majors, and focuses on making its members productive members of the business field.
According to the website, AKPsi.org, the fraternity was founded on "the principles of educating its members and the public to appreciate and demand higher ideals in business and to further the individual welfare of members during college and beyond."
Since Alpha Kappa Psi only became an official fraternity at Monmouth on December 3, 2011, this spring is the first time the fraternity is recruiting new members as a chartered chapter, said their members and president, William Bancroft.
Because AKPsi allows both men and women into its fraternity, the members had to recruits its potential members differently than other sororities and fraternities on campus.
Andrew Lawler, a Health Studies and Physical education major and member of Alpha Kappa Psi, was nervous about recruiting potential members their first time. "We had to recruit our potential male members through Round Robin, but then had to rely on word of mouth for most of our possible female members," said Lawler.
It seems as if both recruitment methods worked, since their first new member class consists of 5 men and 6 women of different ages and majors.
Besides its professional nature, there are many other aspects that make this fraternity different than the social sororities and fraternities on campus.
"The fact that it is open to all majors and is co-ed also makes it a unique organization to have on campus," said Professor William Gorman, a business and history professor and the faculty advisor of Monmouth's chapter of Alpha Kappa Psi.
Although the fraternity is primarily focused on "fostering future business professionals," as the website of AKPsi says, most of the members are proud to say that socializing has its place in this professional fraternity.
"I met a whole bunch of people through the fraternity that I was never going to meet unless I joined, and I love that everyone is so different but still have similar interests," said Lauren Cane, a 19 year-old founding member from Moorestown, NJ.
AKPsi allows its members the best of both worlds as well, believes Jamie Petraglia, 21 year old Art and Elementary Education major from Jackson, NJ. "I liked that it was more than just a social thing; it offered opportunity to build your resume and network with different businesses, yet it still had that social aspect," she said.
"We are the founding fathers of the Psi Iota chapter here at Monmouth, so we were able to build the fraternity on this campus from the ground up. Its nice to know we're responsible for how it's being run now," Petraglia continued.
Professor William Gorman is a very proud new member of the fraternity as well. "I became a member when the fraternity was chartered in December," he said.
When asked why he had decided to become the fraternity's faculty advisor Gorman said "I am a strong believer in Greek life, and the thing that attracted me to Alpha Kappa Psi was that it is a professional business fraternity that offers all kinds of opportunities for the development of a professional nature, as well as affording members the opportunity to forge strong bonds that are associated with fraternal membership."
But it seemed that the most important aspect of the fraternity to many of its members was what they received as members, "We get involved in community service, we are part of the Ronald McDonald House, we support each other, we host resume building workshops and mock interviews to help foster future business professionals, and we've become a family," said Andrea Gilroy, a 20-year-old Psychology major, and founding member.
Michael Lopes, a Music Industry major with a minor in Communication, and a member of Alpha Kappa Psi, believed that "the close knit bond that I have with all the members of AKPsi makes all the hard work we went through as founding fathers worth it."
As the new fraternity gets its feet off the ground at Monmouth, it still has a lot of work to do in order to prove itself to the rest of the Greek community. It will be accepting new members again in the Fall of 2012 and cannot wait to grow as a brotherhood both now and after they graduate.