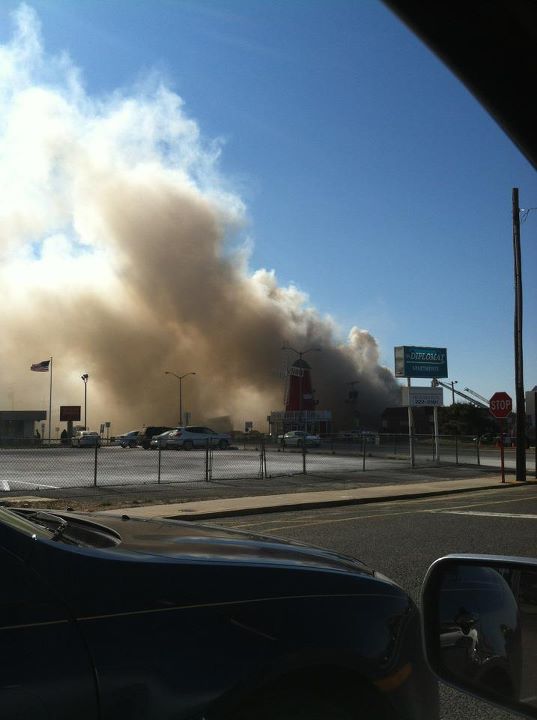 West Long Branch, NJ  (The Verge)- Over a full day later and the damages are still being assessed over the Brighton Ave fire that began Monday morning just after 10 a.m. Of the establishments that were destroyed, the West End Dance Academy, as well as 14 apartments left over a dozen people without anything but the clothing on their backs. Still unsure how it spread or where it started, the fire ripped through building walls in the Long Branch business district as firemen pumped 6,000 gallons of water per minute, attempting to put out the fire.
Over 100 firefighters from 11 different districts were called to the scene and finally put out the fire at around 8 p.m. Though the fire was under control late Monday night, the firefighters remained on scene all the way into this morning. This fire is considered to be the most destructive fire in the area since the one that cost over $10 million in damages at the pier in 1987.
The American Red Cross is doing all they can to find accommodations for the 11 families who were left homeless, after being housed in the Long Branch Senior Center, including food, shelter, and counseling. As of now, seven of the 11 families are staying in hotels and the remaining four families have found their own accommodations. Of these victims who lost everything includes a bartender from Draft House and his girlfriend. The Draft House located at 100 Brighton Ave., will be holding a fundraiser on Wednesday, Feb 15. from 6 to 10 where 50 percent of the proceeds made will go to the couple.
The Long Branch community is doing all they can to reach out and help the victims of this tragedy. Any household items can be dropped off to the West End Fire Dept. between 2 and 5 p.m. on Second Ave. Mike's West End Deli will also be collecting donations from Wednesday through Sunday.
Although this fire was an extreme tragedy, with the exception of a few animals, all residents of the apartment building got out alive and only one firefighter was hospitalized due to a severe cut lip.