WEST LONG BRANCH, N.J.–Located on Main Street in Asbury Park, Johnny Mac House of Spirits is a cozy local hangout spot for people to come together and relax. But on the second Wednesday of every month, it fills with men and women ready to dish out cheesy pick up lines and find love. The popular Asbury Park bar's year-old Speed Dating Night has become a great way for strangers to have fun and meet one another through a series of three-minute-long pseudo-dates.
According to Alexis Simoes, a Johnny Mac bartender and senior political science major, roughly 20 men and 20 women participate in three minute dates with each other, with the men moving down the line to meet each woman. At the end of the 20 dates, everyone selects two people they would want to go on a date with. If two people select each other, they win. The newly connected couples have to beat the others in a game of skeeball in order to win a $50 gift card to an Asbury Park restaurant like Kim Marie's Eat 'n' Drink Away.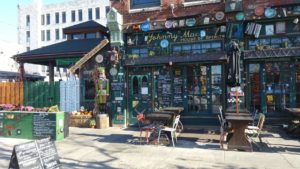 To sign up on the list of speed daters for the night, participants are asked to arrive at the bar by 9 p.m. The actual speed dating process begins at 10 p.m.
Steve Schukin, a frequent patron and senior accounting major, usually goes to Johnny Mac's–as it is affectionately called by locals–to get a quick beer and pizza and to unwind, not to speed date.
"I didn't even know it was speed dating night until I went to grab another beer and the bartender mentioned it to me," said Schukin. "But with a little bit of peer pressure, my friend had finally convinced me to give it a try with him. I figured, we're both single, already here, and never experienced speed dating, so why not?"
It turned out to be a good decision, even though the blonde-haired, blue-eyed girl he had his eyes on did not ultimately choose him at the end of the night.
"Overall, I enjoyed speed dating even though I wasn't planning on doing it," continued Schukin. "It was a new Jmacs experience for me that was surprisingly fun. I can only imagine what it would have been like if I was actually looking for a serious relationship."
Schukin is not the only one who found the bar's speed dating concept a good one. Johnny Mac's Speed Dating Night was covered by the Asbury Park Press back in December 2014 as part of its several-part segment on online dating.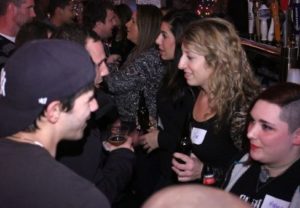 APP reporter Susanne Cervenka even co-hosted and participated in the weekly event herself. According to the article summarizing her experience, Cervenka said that while the amount of time spent "dating" each man was not sufficient enough to establish a long-lasting connection, she believes speed dating has the potential to result in a match.
Aside from Speed Dating Night, the bar offers a few other weekly events, including Free Omelette Sundays, Skeeball Competition Tuesdays, Country Music Thursdays, as well as special events like the Asbury Park Zombie Walk and Santacon.