WEST LONG BRANCH, N.J.–For centuries, Paris has captivated travelers, dreamers full of wanderlust, and unapologetic tourists alike. Even disregarding the ubiquitous "top world destinations" lists by TripAdvisor and Lonely Planet that the City of Light has earned spots on for decades, simply asking someone for a list of cities they would like to visit usually yields an answer with "Paris" in it.
But after coordinated terrorist attacks rocked the French capital on Nov. 13, it would not be surprising if the tragedy negatively affected the city's place on these conversational lists, or if it steered away a good portion of the 84 million international visitors that the World Tourism Organization reports travel there annually. In fact, the city's tourism industry has already been exhibiting the fallout of that horrific Friday evening in a variety of ways.
The Financial Times, for example, told of visitors finding virtually nonexistent lines to see the Mona Lisa at the Louvre and of easyJet passengers not showing up for their flights to either Charles de Gaulle or Orly airports. Meanwhile, the New York Times reported that the famous Le Bristol hotel lost about $530,000 in lost bookings within 72 hours after the attacks. France's renowned icon, the Eiffel Tower, remains closed along with attractions like Disneyland Paris.
Despite all of this, quite a few Monmouth University students have asserted that the attacks have not curtailed their desires to travel to France or its capital.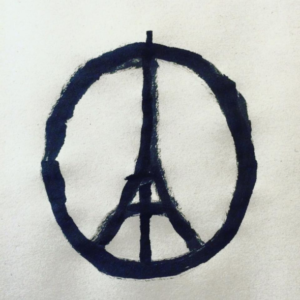 The Paris attacks especially hit hard for Christopher Delnoce, a psychology student who came to love the City of Light after vacationing there several times in the past few years. During his travels, he enjoyed frequenting locales in the 11th arrondissement like Le Caves Saint-Sabin. This particular medieval tavern happens to be within minutes walking distance of one of Friday's targeted restaurants, La Belle Equipe, as well as the Charlie Hebdo offices that were attacked earlier this year.
"Paris' economy is service based, relying on things like restaurants and hotels and attractions to drive itself," said Delnoce, who believes that travel to the French capital is imperative at this time. "If people don't start traveling there in greater numbers, and they give into the fear that the terrorists are trying to spread, then it could mean some hard times for Paris."
"Unfortunately,…people typically do give into the fear," continued Delnoce. "But I for one, would go there tomorrow if given the opportunity."
Unlike Delnoce, senior chemistry major Taylor Jones has never been to France. However, like Delnoce, he would not hesitate to board a plane there, either. Jones believes that throwing caution to the wind in situations like these is far more effective than living in fear.
"If I were to live cautiously, it wouldn't be much living," said Jones, who sees this attitude as a way of standing up and showing solidarity against the ISIS terrorists who have made it their mission to kill innocents.
Luckily, Quartz reports that while tourism in France will suffer directly after the attacks, it will not be long before travel agents, hoteliers, and airlines will be back in the swing of things, facilitating visitor trips to Paris' historic sites. In the meantime, nous sommes avec vous.