WEST LONG BRANCH, N.J.–About six decades ago, my grandmother would help her mother get dinner ready for her family. Without asking, she knew she would have to marry a Jewish man because her family was Jewish. She would watch her mother stay at home and work on things at the house. She wanted to follow in her mother's footsteps and work for her future husband and family.
Years later, she was able to do so, being set up with a man that was both Jewish and in the army. One thing to do back then was to write men in the military as a favor to keep them company while they were away at war. Most of these pen pals turned into love stories. Aside from the effort it took to write to a man in the military, my grandmother took the opportunity to work for the war effort. Embodying the iconic "Rosie the Riveter," my grandma went to a factory to help create binoculars for the soldiers.
This was a huge step for women in the workplace, opening up jobs and allowing men to see that women could do things just as well and efficiently as them.


"During the war, women had proven that they could do a 'man's job,'" according to the Washington State Historical Society. "Having taken the step forward, they weren't prepared to go back. Women had learned to fight for their rights during World War II, and it was a battle that didn't end with the war."
Indeed, women like my grandmother helped make many strides throughout history, earning the right to work, vote, learn in schools, and much more. Historic women like Betty Friedan, Alice Paul, and Gloria Steinem have demanded what they wanted out of this country since its inception and have been shaping the United States to welcome women as equals to men in all aspects.
Although women like my grandmother got a shot at working in the same fields as men, they did not get paid nearly as much as them and had to work for it in the years to come. This brings us to the present, where despite immense progress, one problem seems to hold true: the lack of equality in male and female wages.
The lack of wage equality between the genders has not improved sufficiently in recent years at all. According to the Institute for Women's Policy Research, as of 2014, women make only 79 cents for every dollar that a man earns. That is a considerable difference between the two genders, even though the federal Equal Pay Act stipulates that men and women need to be provided with equal pay from their employers, including their benefits, raises, bonuses, holiday pay, and more.
There are many women's groups, like the National Organization for Women, that intend to get women the equality they deserve. But even though they have done great things for equality, securing a wage that does not discriminate against gender is still an issue.
In fact, today, women are still working toward well-deserved equal pay. In many cases, there are women who are working a full-time job and their pay is minimal in comparison to the men who work the same job in the same field. Yes, their qualifications play a role, but currently, that does not seem to matter to the employers who pay them less.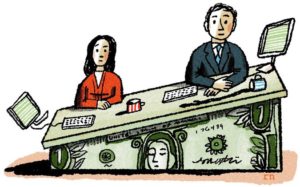 This might have something to do with the fact that a majority of men believe they need to hold a certain power over women, which includes in the workplace and in their wages. Unfortunately, this is the barrier that has been blocking the lack of equality in this sector.
In order to turn this around, the government needs to set out to review every company for equality, whether it be a corporate or local business. The government should set an initiative to bring officials in to check on each company's wages. Just as the government keeps an eye on whether companies are committing fraud or other infractions, it should likewise check for unequal pay and, upon finding it, treat it like the crime that it is.
By implementing these or similar changes, women all over the country would be taken to another level of equality they have not yet seen in their lives. Not only that, but the government would show their support for women–something they have not been perceived to do in years past.