(The Verge) – The Barclay's Premier League is regarded as the best soccer league in the world by many, and its popularity is finally spreading to the U.S.
Ever since ESPN formed a television contract with the Premier League, the beautiful game has finally made major impacts on many in the U.S. Although the games are sometimes early in the morning or mid-afternoon on a week day, the impact the Premier League is making, is significant. Now more than ever you can walk into a public place and see fans sporting jerseys of their favorite clubs like Manchester United, Chelsea, Liverpool, Tottenham, Arsenal, and others. Soccer is the most popular sport on earth, and now its popularity is making strides in a country where interest for the game wasn't nearly as high as it was in other countries.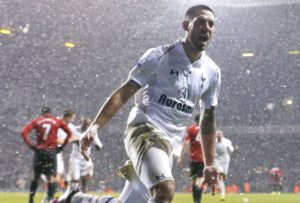 For those who aren't as familiar with the Premier League as others, heres what we've seen thus far: Manchester United currently possesses 55 points, leading defending league champions Manchester City by 5 points. United have been led by superstar acquisition Robin van Persie who leads the league in goals. They have relied on many late game heroics to maintain the lead league, but are in the drivers seat in the second half of the season. Their defense has been a weakness, but the return of Nemanja Vidic should make for a stronger back four and allow the Red Devils to make a run for their 20th league title.
Second place Manchester City are the defending champions and are sure to be fighting for another title. They have as much talent and money as anyone in the league, only 2 league losses, but remain 5 points back of the league leaders. They seem to lack the ability to finish games as they did last season, but Roberto Mancini's men are in striking distance of rival United. Sergio Aguero, Edin Dzeko, and David Silva will make for plenty of goal scoring opportunities, and captain Vincent Kompany anchors the back four. Goalkeeper Joe Hart has faced some scrutiny for his play this season, but that will come when you're a defending champion. City should be in the race for another title as the season enters its final frontier.
Third place Chelsea, what will we ever do with you? The controversial firing of former manager Roberto Di Matteo is still fresh in the minds of many blues fans. The even more controversial hiring of former Liverpool manager Rafa Benitez is even more mind boggling. Chelsea has enough talent to play with any club in Europe, but the issues with managers are preventing them from taking full flight. Wingers Juan Mata and Eden Hazard are arguably the best combination in the league. The back 4 are a steady, veteran group of defenders. This team has the ability to beat anyone, but they severely lack the chemistry to achieve their full potential.
The three aforementioned teams have something in common: they all seem like locks to finish in the top three and qualify for the premier league next season. When it comes to that fourth and final qualifying spot, the race really gets interesting. Tottenham currently holds the fourth position after some late game heroics from American Clint Dempsey helped salvage a draw with Manchester United one week ago. The Spurs, who recently were eliminated from the FA Cup, now can focus on securing that number four spot. Gareth Bale and Aaron Lennon are a two of the quickest wingers in England and create chances for Tottenham's strikers. The problem, however, is that Jermain Defoe is the teams lone striker. He has done a solid job up front  but it seems another striker will be needed for the Spurs to finish more chances. The loss of Brazilian, Sandro, will require Scott Parker to step up. Additionally the back four will need to produce more clean sheets and deny goals late, which have been the Spurs achilles heel thus far. First year manager Andre Villas Boas has a squad capable of returning to the Champions League, but will need all hands on deck to complete the task.
The race for fourth really intensifies behind Tottenham. Everton hold the fifth position and remain just 3 points back of


Spurs. Led by star midfielder Marouane Fellaini, Everton, who have beaten Spurs once already this season, are well withing striking distance of the fourth position. Arsenal currently hold the number six position, just four points back of Spurs and one behind Everton. Winger Theo Walcott is having an excellent season, having already scored 10 goals. He is joined by playmaker Santi Cazorla and striker Lukas Podolski. The Gunners have a squad capable of a top four finish, but may have issues maintaining energy throughout the season. They are still in the Champions League and the FA Cup, so it will be interesting to see what boss Arsene Venger values most important.
Liverpool's recent good form puts them at 34 points, seven behind Spurs. How far their good form takes them, remains to be seen, however. Star striker Luis Suarez now has a running mate in the form of Daniel Sturridge, who will make for a deadly combination of strikers. Liverpool is tied with West Brom, who have struggled recently, and will quickly fade unless they can regain the impressive form they showed earlier this season.
Swansea City, Stoke City, Sunderland, West Ham, Norwich,  and Fulham sit in the middle tier of the league table. The race to survive relegation can be just as exciting as the race for first. Queens Park Rangers sit dead last with just 15 points. They have some good talent, and a manager in Harry Redknapp who has taken teams from near the bottom to the top four before. QPR has played much better over their last 5 games, avoiding defeat in all games. They will need to continue that type of form to continue for the rest of the year to avoid relegation. Reading and Wigan also sit in the relegation zone with 19 points. Aston Villa is just one point clear, with 20. Newcastle United who last year finished fifth, are only 2 points clear of the relegation zone. Southampton has 23 points, four points clear. Every team has 15 games left, and another epic premier league season is upon us. After the drama that we saw on last season's final day, who knows what's in store this year?