(The Verge)- On Friday, January 25th at 5:00pm in the Magill Commons Club dining rooms, Monmouth held its first student meeting with one of the candidates for our new university president. Dr. F. Javier Cevallos met with students to answer any questions they proposed, in order to get to know him better.
"I gave Cevallos a tour of Monmouth's campus and facilities along with other ambassadors. He was happy to see how friendly everyone is here and he was very talkative and down to earth the whole time," said Rachel Connors, a junior Admission Ambassador of Monmouth.
Cevallos is currently the President of Kutztown University in Kutztown, PA. Cevallos welcomed students and encouraged them to ask any questions about himself and his role as a presidential candidate for Monmouth University.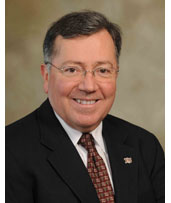 A student asked Cevallos what plans he has for Monmouth University as a whole, if he is offered the position as President. "I am not certain of any plans of action yet because I have not yet learned enough about the university itself and its needs. Monmouth is in great shape and not broken in any way. Instead, the university is moving forward," said Cevallos.
In his judgment, and to best answer the question at the current time, Cevallos implied that he would work diligently with the institution to see where growth can continue and improvements or tweaks can be made.
A very important job for a President is fundraising for the university. This was a key role for Cevallos at Kutztown University. "The cost of education is a challenge today, so making the cost more manageable through fundraising is an important goal," said Cevallos.
Another student asked Cevallos about his take on school pride and spirit, and what it can do for a university. "School spirit is important to have and athletics are a great way to encourage student pride. Other activities around campus such as Spring Fest, also contribute to a school's sense of pride. I plan to learn more about all of Monmouth's traditions and help students become more involved."
One way Kutztown University has spread school spirit is holding parades through the surrounding town to involve the community in football games and other athletic events. Cevallos calls on students to create new traditions that are meaningful and unique. He said students must be creative and leave behind a legacy.
Another student asked the candidate what is the most important student outcome of a liberal arts education. "A liberal arts education provides students with the means necessary to become a productive member of society. Democracy is unique and offers a realm of educational opportunities." Cevallos was born in South America, where dictatorship controls many nations. He said that students must take advantage of their opportunity for education and be engaging, participating members of society.
Cevallos continued on and said that a liberal arts education gives students a foundation for life after college. At a school like Monmouth University there is the opportunity to discover and learn about fields such as Anthropology and Sociology, disciplines that high schools may not always offer, he said.
The next student asked Cevallos about his most rewarding achievement or live event to date. In his first answer, Cevallos said his marriage to his wife and the births of his two children. He said these answers were a bit "corny", but in professional terms, Cevallos said being the first Hispanic President of a college or university in the state of Pennsylvania was a great honor for him.
Attending students also asked what sort of experiences and lessons would Cevallos bring with him from Kutztown to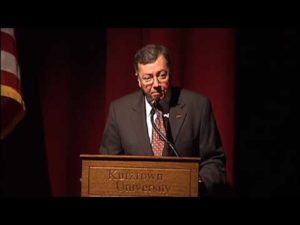 Monmouth University? He said that eleven years at Kutztown have given him much experience as a President of a university. Commitment to a student-centered institution is his main priority.
The biggest concern for him is students' academic and extra-curricular needs. Continual improvement of academic departments is necessary and its imperative that "We make sure we emphasize student success and academic excellence," he said.
A student asked how Cevallos feels about a university's relationship with the surrounding community. He said that the university must always find ways to improve its relationship with the community. Cevallos said that he takes the time to personally meet with the mayor of Kutztown, PA, Sandra "Sandy" Green, every six weeks to share news and collaborate.
Cevallos stresses the importance of working with students to help them learn to be more respectful of the surrounding community, and also the importance of meeting with townspeople to address and solve their concerns.
Another student inquired about the benefits of and effects that technology has on a university. Cevallos described technology as a "fabulous tool". He said that it offers the opportunity to host completely online or hybrid classes. Cevallos favors in the classroom courses, and highlighted the importance of faculty advising and assistance. He said that Skype is being used in foreign language courses, which offers interesting interactions around the world for the benefit of education.
Cevallos said that technology should be incorporated into traditional lectures to make them more interesting, like professors currently do here at Monmouth. He stands by his belief that students require faculty guidance so they can apply content they learn on their own, and online.
A student asked the candidate a significant question, why choose Monmouth University? Cevallos said how he has been the President at Kutztown for eleven years. As a university President there is a natural cycle that is followed, where over time a President feels he or she should move on to bring a new perspective to a new environment.
After doing some homework and research, Cevallos said he saw how much Monmouth University was moving in the right direction, which is a very attractive element for the institution. He is also very happy with Monmouth's unique location, being nearby New York City, a train ride from Washington D.C., and so close to the Atlantic Ocean, he said. Cevallos also said the beautiful campus is another attractive feature Monmouth offers. In 5-10 years, Cevallos said that Monmouth has the potential to be one of the top universities in the state of New Jersey.
One specific question from a student was regarding a portion of Cevallos' work in student enrollment and increased selectivity, and how that was possible.
His Curriculum Vitae specifically says, "Increased overall enrollment from 8,500 to current levels, increased student diversity from 6% to 17%, and increased selectivity form 80% admissions rate in 2002 to around 67% today."
The full Curriculum Vitae can be found on the Monmouth University website, here.
Although there are several grammatical and spelling errors in this document, it highlights Cevallos' educational and professional career.
In terms of student diversity, Cevallos said that diversity is a good marketing tool for any university. International student programs and study abroad opportunities are both very important, he says. It is good to market the university not just to out of state students, but to the world.
Cevallos said that there are over 130 international students studying at Kutztown University, many from Kenya and China. He says that these students and those who return from studying abroad bring diversity and unique perspectives to the university.


In order to increase student retention, Cevallos believes that students must be persistent, and good academic advising is essential. A good student center, with tutoring and mentoring available is helpful as well, he says. At Kutztown University, there are mid-semester reports made to check student progress, similarly to Monmouth's midterm grading and the Monmouth Early Warning System (MEWS).
There are certain situations that may arise, which can affect whether or not a student can stay in school, Cevallos said. Family and health issues can affect students' lives greatly, and a university President and their staff must be there to help.
Cevallos said that he reads all of his emails himself, and responds to every email that a student sends him. He encourages students to reach out to him, and frequently helps with questions regarding simple issues, like a forgotten housing application, but also with more rare and serious problems.
In regards to visibility around campus, Monmouth's President Gaffney sets the bar high, as he is often seen walking throughout the grounds and attending athletic events and other activities. Cevallos said that he, like President Gaffney, also attends many events at Kutztown, and knows that students there can attest to it.
Cevallos said that in addition to diversity, athletics are another important marketing tool for a university. Athletes have a better graduating rate nationally, he said, and they are hardworking students with a support system who bring sprit to the rest of the school.
An important question for a lot of Monmouth students is how the Presidential Candidates feel about Greek life at the university. Cevallos said that Greek life is another way to engage students and let them become a part of the campus community. There are social and service fraternities and sororities at Kutztown University, and Cevallos attends Greek life council meetings in order to be involved in that facet of student life.
Greek life builds leadership and organizational skills, Cevallos said. Although it may not be for everyone, he said that it is most important to offer as many activities and organizations as possible for students to find their niche; somewhere they can fit in and be happy.
Towards the end of the session, students were curious about Cevallos' personality and spare time. He enjoys playing golf, for university development and fundraising, and also for personal exercise and relaxation. In addition, Cevallos said he enjoys downhill skiing, is an avid reader, and loves to cook.
When a student asked what his favorite part about being a university President was, Cevallos said, "Honestly, interacting with you, the students."