WEST LONG BRANCH, N.J. – Bruno Mars has consistently crafted successful hit songs, both solo and as a featured artist, since his career launched back in 2010 when he sang the catchy chorus for B.o.B.'s "Nothin' on You". His latest album, 24k Magic, was highly anticipated after the explosion of his popular single, "Uptown Funk". In the transition he's endured from "Just The Way You Are" and "Locked Out Of Heaven" to his current sound, he has gone from being your average dreamy pop-star to being an acclaimed musical talent. 24k Magic feels heavily influenced by Marc Ronson, and seems to be have evolved from the sounds of Unorthodox Jukebox. Remnants of songs like "Treasure" and "Uptown Funk" can be found in 24k Magic, but there is no song in particular that gives off the same vibes as the hits of Mars' past.
Essentially, if you are looking for an album that talks about subjects such as girls, money, and partying, then this is the album for you. As great as the production is on 24k Magic, it is forgettable. Musically, it is reminiscent of the 80's. Mars does a great job of creating a rhythmic atmosphere full of R&B and funk. However, the music and production are the only redeeming qualities of the album. There are surprisingly only 9 songs on the album, which makes 24k Magic Bruno Mars' shortest record yet. In full, it is only a little more than 33 minutes long.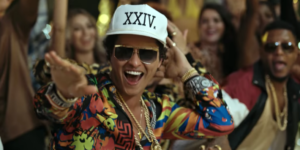 The first track, titled "24k Magic", features funky synth based beats and a strong presence in background vocals for extra depth. Overall, "24k Magic" isn't necessarily the strongest song but it sets the tone for what to expect throughout the rest of the album.
"That's What I Like", track number four, might be the most well constructed song on 24k Magic. It has a really fun melody and some signature catchy lyrics. It reminds me of 2000's R&B, with bits of beats from today's rap hits mixed in the sound. It has solid harmonies where Mars gets to show off the hidden power in his voice. His vocal control has grown exponentially. In his prior work, he pushed his limits too often, which often resulted in emotionless melodies. This record proves he has grown as a musician, and has learned when to use his bravado.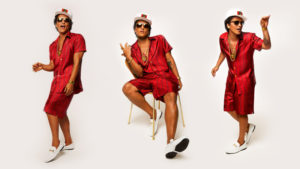 What 24k Magic needs is riskier songwriting. Even though the music is bold and different from his previous works, the songwriting is still very contemporary. It doesn't contain a track that stands strong alone, which is how his singles usually are in comparison with his previous albums.
It took a few listens to understand the meaning behind 24k Magic. Taking everything into consideration, 24k Magic is about the production value, the phenomenal vigor Mars brings vocally, and the overall atmosphere the album presents that masks the lackluster song writing. This isn't a bad album, nor is it a life changing one, but it can potentially be forgettable up against his previous work.