WEST LONG BRANCH, N.J. – With the NFL draft less than a week away, there is so much the Philadelphia Eagles must do to put themselves in a position to contend in the NFC East and go for a playoff run. Reflecting on the additions and losses the team has been going through, The Eagles are propelling a team built around Carson Wentz.
With a couple of key additions, four things need to happen for the Eagles to have a successful draft/season: Alshon Jeffery and Torrey Smith must play bigger than their roles as second receiver, the transition for the 3-4 defense to a 4-3 must be successful, the cornerback position needs to be addressed, and the run game needs to play a bigger part in the scheme.
During Carson Wentz's rookie season, he threw 3,782 yards, and had 16 touchdowns to 14 interceptions. His receivers were abysmal, to say the least. Other than Jordan Matthews and Zach Ertz, who have proven to be threats in the middle, Wentz had no real weapons on the outside. Dorial Green-Beckham and Nelson Agholor combined for 757 yards and 4 touchdowns on the outside. Neither played to the potential they were supposed to, as first and second round picks. However, with Lane Johnson missing 10 games because of a suspension, there was also a liability on the right side, which affected the offense as a whole. With Lane Johnson, their was better protection and the run game was more successful.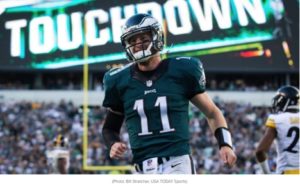 Alshon Jeffery and Torrey Smith are a huge improvement from Green-Beckham and Agholor. However, both receivers were extremely successful in the #2 receiver position. Jeffery is two years removed from having over 1,000 yards, but his touches diminished without an equally talented receiver on the other side, making Jeffery a victim of being double covered, thus giving him less targets. Smith is probably the best receiver that's played on the opposite side of Jeffery since Brandon Marshall. However, Alshon must be the true #1 receiver and Smith must go back to his days in Baltimore, where he was a difference maker.
The Eagles lost a couple of key players on defense with Connor Barwin, Nolan Carroll and Bennie Logan all now wearing a new team's uniform. However, Barwin is a true 3-4 outside linebacker who wouldn't have been a fit in a 4-3 scheme. Getting Chris Long was a better pick up than most expected. One of Long's biggest worries was staying healthy. It's what made him get cut from the Rams, but with the Patriots, Long played all 16 games as a situational pass rusher and was able to bring pressure. Carroll is a 29 year old cornerback who hasn't really been a key piece to any defense he's been on. With the 2017 NFL draft being loaded with pass rushers and cornerbacks, the Eagles can find a gem that can be a cornerstone on defense and bulk up at defensive end and cornerback.
The Eagles possess three picks within the first 99 possible players that will be drafted. They have the 14th pick in the first round from the Vikings, the 43rd pick in the second round, and the 99th pick from the Ravens in the 3rd round. With so much talent on defense in this year's draft, their first round pick should be a blue chip player that'll come in and make a difference on day one. Their are five possible players that can be huge playmakers for the Eagles, that will also fit the system: Reuben Foster, LB, Dalvin Cook, RB, Haason Reddick, LB, Gareon Conley, CB, and Charles Harris, DE.
Foster was a true thumper and tone setter as an inside linebacker with Alabama. Even though their may be some "character issues", there's no denying his talent. Foster is a top ten talent who will slide, and the Eagles could be the last one laughing by not passing up on Foster. He can play as a weakside linebacker or even at middle linebacker. He has the frame to add weight and is a sideline to sideline player. His vision is impeccable, and he is without a doubt the best linebacker in the draft. With the position thin on the Eagles, he will be a necessity and a definite difference maker.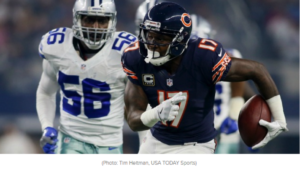 Cook is the most complete back in this year's draft. Its unreal how he is not in the discussion of a top 10 pick, let alone being undermined by scouts for Christian McCaffrey and Leonard Fournette. McCaffrey may have the softest hands of the three, but Cook caught 33 balls for 488 yards. Fournette is a bulldozer, but his playing style has left him with a history of injuries. Fournette would be a NFL GM's dream in the 90's, but in this passing first league, Cook is perfect and versatile enough for any system. If Cook falls in the lap of the Eagles for the 14th pick, they can severely help the run game and take pressure off of Wentz to constantly throw the rock.
Reddick is one of those freakish prospects that had his draft stock rise immensely since the NFL Scouting Combine. His ability to blitz and put his hand in the ground while also being able to play any linebacker position makes him a very pleasing prospect. He is worth being drafted between 15-25, and if the Eagles love him, and could use a South Jersey Native who played at Temple University, he could be a local talent that would give his all for the Eagles.
Conley is considered the second best cornerback in the draft. The best corner is said to be his teammate Marshon Lattimore. The scouts say Lattimore has a greater upside and is more athletic. However, Lattimore has less experience than Conley and both were great together. Conley could have a great mentor in Malcolm Jenkins, and having two Buckeyes could foster great chemistry in the secondary. Conley was a great player at Ohio State and would fill a huge need for the Eagles.
Harris may be a reach, but he has a relentless motor, and getting a guy that can bring intensity with a pass rush will change the defense. Harris can come in as a situational pass rusher and do what he does best: get to the quarterback. Aldon Smith did the same when he first played on the 49ers, and got 19 sacks in a year as a situational pass rusher. Harris has the same upside. Being an undersized pass rusher is what gives Harris his chip. The coaching staff can build his technique but his pure talent can help bring consistency to his game. Having a big brother like Fletcher Cox will be enough to make Harris a playmaker.
Depending on which direction the Eagles take, there will be plenty of talent at the 43rd pick and the 99th. Some cornerbacks expected to be around those spots are Sidney Jones (who would sit for a year because of an injury, but was considered the best corner in the draft before getting hurt), Kevin King, Quincy Wilson, Fabian Moreau, and so on. There are so many corners that the Eagles can pick, based on taste, who will fit and deliver what they expect from the position.
Overall, The Eagles need Jeffery to play like a #1 receiver, and for Smith to be the same pro he was when he played with the Ravens. Both players are extreme upgrades from last year's receivers, and having a guy like Jordan Matthews in the slot, and Zach Ertz at tight end will give Wentz an arsenal of weapons to use against opposing defenses. The transition from a 3-4 defense to a 4-3 defense needs to be seamless, and getting the guys who fit the scheme will propel the Eagles' success for the 2017 season. The draft is loaded with corners, and filling that position will help the secondary exponentially. Giving Ryan Mathews and Darren Sproles more touches, or getting a workhorse like Dalvin Cook will give the running game new life and take pressure off Wentz. If the Eagles can successfully take care of all these problems, they can be a real threat in the NFC east.