WEST LONG BRANCH, N.J. – On April 4, Monmouth University's Shadow PR Firm and PRSSA Chapter collaborated with The Valerie Fund (a nonprofit organization dedicated to providing support in healthcare for children with cancer and blood disorders) in hosting 'Monmouth Hawks Dance Together.'  The event was the first annual dance marathon in Anacon Hall at the Rebecca Stafford Student Center. All proceeds went towards The Valerie Fund Children's Center for Cancer of The Unterberg Children's Hospital at the Monmouth Medical Center.
The event was actualized after the Shadow PR Firm and PRSSA did a small community service event last Decemeber with The Valerie Fund. They went to their location at the Monmouth Medical Center and wrapped presents for children during the holiday season. They kept in touch and found out about the dance-a-thon Seton Hall University had done and  co-presidents Kelly Brockett and Kristi Silver went right to work to put an charity together.
Silver said, "The organization helps with treatments that not only deal with their illness, but their mental stability, their family stability, and so much more. They help kids get through school and most importantly make it so that the children do not have to travel far to receive their treatments. No child should have to suffer through this and if we could help any way at all, then I am in."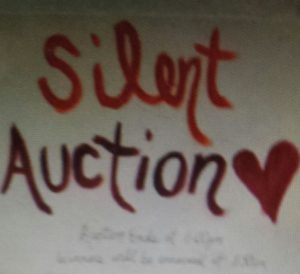 The following were teams which participated in the day's event: "IM" Crazy About Dancing!, AKPsi, Alpha Omicron Pi, Alpha Sigma Tau 1, Community Service Club, CommWorks: Student Performance, Department of Communication, Desperate Mamas, Finnas, Hawk TV & WMCX, Monmouth W Golf, MU Cheerleading, Shadow PR, Sigma Tau Gamma, Student Activities Board, Tau Kappa Epsilon, TEA33, Team Killian, Team McCabe, Team McKenna, The Outlook, and Zeta Tau Alpha.
"IM" Crazy About Dancing! raised the most money for the evening. The total proceeds of the night exceeded $10,000. It ran from 6 p.m. until midnight and included live music, games and food as well as a silent auction. Prizes from the auction included a signed New York Jets helmet by former kicker, Jay Feely, and former wide receiver, Chansi Stuckey. As for games, participants found themselves sneaking beneath limbo bars and answering questions from 'the big screen.'
Silver added,"We have gotten great feedback about our event and it is definitely something that the Shadow PR Firm & PRSSA Chapter plans on continuing and I can only hope for it to grow each year and continue to raise thousands of dollars for local children in need."


The Valerie Fund was created in 1976 by Ed and Sue Goldstein after they lost their nine year-old daughter Valerie to cancer. They were determined to do something in her memory to ease the burdens faced by parents aiding sick children. With the help of a group of friends, the Goldsteins' vision of helping families deal with similar circumstances came to fruition in 1977 when the Valerie Fund Children's Center at Overlook Hospital opened. The Center became the first comprehensive care facility for children with cancer and blood disorders in New Jersey.
Along with the location at Monmouth Medical Center, The Valerie Fund has six other spots in New York, New Jersey and Pennsylvania.
—————————————————————————————————————————————————————–
For those interested in participating in next year's event at Monmouth, here are some answers to possible questions you may have:
There are several frequently asked questions (FAQ). One is, 'can I register by check?' The answer is yes, but coordinators urge inquirers to make sure all checks are payable to The Valerie Fund. You can also register on the phone by calling The Valerie Fund at (973) 761-0422. Make sure you already have all credit card and registrant information readily available, to provide.
Another worry is if you didn't get an email confirmation, are you registered? If you have registered online and saw the 'success!' page, you are registered. For some systems it may not allow email confirmations to come through to you. In case that happens and you do not get your confirmation emails, please email the webmaster for confirmation of your registration or donation at webmaster@thevaleriefund.org.
To get involved and show support to The Valerie Fund for all their upcoming events, visit their website at www.thevaleriefund.org.

Video by Shawn McBride.