(The Verge) – Now that this year's biggest game is behind us, let's take a look at what the instant classic left behind. While much of the pre-game hype surrounded Raven's linebacker Ray Lewis  and the so called Harbowl, this year's Superbowl left us with many questions answered.
Joe Flacco won a Superbowl. He has finally established himself as one of the top tier quarterbacks in the league. He also did it in impressive fashion, throwing for 11 scores and not a single interception. Winning game MVP isn't too shabby either. Now that he has led his franchise to their second world championship, he is going to command a boat load of money from his respective organization. He is likely to be paid as one of the top five signal callers in the league. A contract of at least 6 years and 100 million seems imminent. Its also not just about the money and the ring. Flacco has added to his legacy. He beat two future Hall of Fame qb's in Tom Brady and Peyton Manning. He out dueled the league's hottest and maybe the most dynamic quarterback in Colin Kaepernick. He posted a line of three scores and no picks against a top five defense in the NFL's biggest game. Even better, what everyone seems to forget, is that Joe Flacco did something Eli Manning did just a season ago. Before the season started, Flacco stated he was one of the league's elite on a radio show. He faced heavy criticism for his boldness. The year prior to Flacco's elite claim, Manning said something similar, and backed it with a Superbowl victory. Now Flacco has done the same. Now he and his Ravens have well earned target's on their backs. However, it is doubtful they will complain.
Ray Lewis cements his legacy. All ready a sure fire inductee for the Hall of Fame, Lewis rides into the sunset with his second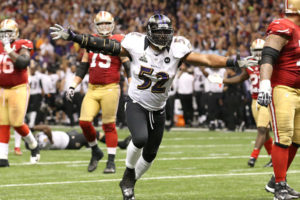 and probably most gratifying championship ring. His legacy as a player will be that as the leader of a defense that was dominant for over a decade. The defenses Lewis was a part of now have a place with the Steel Curtain from Pittsburgh teams in the '70s, the Orange Crush from Bronco teams in the late '70s and early '80s, and the Giants defenses from the mid to late '80s. There has been enough pre-game hype about Lewis and his career, but how fitting was it for his last series to be a goal line stand? It would be nearly impossible for it to be scripted any better.
Since 2002, Lewis has had a partner in crime. His name is Ed Reed. These two have been the best defensive players on so many vaunted Baltimore defenses. Reed has been named to multiple pro bowls, all pro selections, and even a spot on the all decade team for the 2000s. He holds several franchise and NFL records, once returning and interception 107 yards for a score. Reed now has a championship ring and should go down as one of the best safeties to ever suit up.
The way the 49ers have ended their season the past two years must be heartbreaking for them and their fans. Even worse, they are now beginning to establish a reputation as a team that struggles to win the big game. They have arguably as much talent as any team, but just have not been able to put it all together. It seems as if they are a couple plays away from being champions. However, it is often those few plays that make all the difference. San Francisco has depth, talent, and youth at nearly every position. They have a fiery and passionate head coach who players must love to fight for. The pressure will be on for a title in the bay area when comes next season.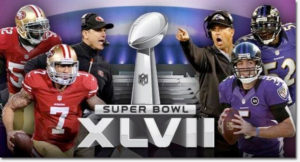 When asking, what has this year's Superbowl taught us, there is one aspect that shouldn't be overlooked. This being that of the job, of an official. Referee's must have it tough. The most talked about play of the game has been the fourth and goal, with less than two minutes to play near Baltimore's five yard line. When viewing the replay, you can clearly see there was contact made by Raven's cornerback Jimmy Smith on 49er's wide out Michael Crabtree. Did it impede Crabtree's route? Yes. Was it after five yards? Yes. Therefore, it could have been called either a defensive hold or pass interference. Jim Harbaugh and company certainly have a case for a call that could have changed the game. However, the officials were allowing contact by both offensive and defensive players throughout the game. There will always be times when you can make a case for a penalty, but give the officials credit for being consistent over the full course of the game. Furthermore, even if Crabtree would have received less contact from Smith, there is no guarantee he makes the catch. There was also question if the ball thrown by Kaepernick was even catchable. Either way, it's a lose-lose situation for an official; they are going to be under major scrutiny from one head coach or the other. They can at least be applauded for their consistency in America's biggest game.
We know Ray Lewis has most likely played his last game, but who else might have as well? Raven's center Matt Birk has quietly been one of the league's best centers since he took over the position in Minnesota, back in 2000. Now Birk has a Superbowl ring, so it will be interesting to see if chooses to retire or not. Also flying under the radar has been Niner's receiver Randy Moss. He has been one of the best players of his generation, ranking in the top five in receiving yards, touchdowns, and 100 yard games, all time. Only time will tell if Moss wants another go at a championship.
Superbowl XLVII certainly lived up to the type. You could make a case for the 49ers regaining momentum after the 34 minute blackout, but it was still an instant classic either way. Big brother tops little brother, Joe Flacco becomes a top tier quarterback, and Ray Lewis rides off into the sunset with his second ring. This year's game answered many questions. Let's see what the first cold weather Superbowl produces next year.