(The Verge) – February 1st, Monmouth welcomed the third presidential candidate finalist to campus.
Dr. Paul Richard Brown is currently the Dean of Lehigh University's College of Business and Economics. This is one of four colleges at Lehigh and it offers programs in undergraduate, graduate, doctoral, and professional higher education.
In addition to leadership positions at Lehigh University, Brown has also been employed at New York University and Yale University, where he has been recognized for notable awards.
Additionally, Brown held visiting appointments at the European Institute of Business Administration (INSEAD) in Fontainebleau, France, and the International University of Japan (IUJ) in Niigata, Japan.
This information, and more is found in Brown's Curriculum Vitae.
The student information session was held at 5pm in Wilson Hall Auditorium. Brown sat at the front of the group of about 20-30 students. He then began a conversation with them.
Brown introduced himself and explained how choosing a new President of a university is a very tough and important



decision. He is an advocate of letting the student body see the decision-making process, and meeting with him is a part of that. At this point, Brown invited students to have a question and answer session with him.
The first question asked, similarly to the previous finalist session, was about visibility on campus. The student wanted to know if it was important for a school president to make his presence felt on campus.  As a department dean at Lehigh University, Brown spends about 40% of his time working to fundraise for the university. So, he does not have much time to see students during his current job.
As a President, however, Brown said that there is an obligation to interact with students. He joked that a President is like an über father figure. This father would have over 4,000 students, though.
Brown explained how there are many parallels between Lehigh and Monmouth. Both schools are residential private schools with full-service activities on campus, clubs, and division 1 sports. With all of these parallels, Brown can see himself easily fitting in at Monmouth, and being a visible President on campus.
As a President, Brown said he would have the luxury of spending more time interacting with students: giving out awards, attending campus, and athletic events. Brown also mentioned he is an avid opera buff, so he would enjoy the opera broadcasts at Pollak Theatre.
He believes building a relationship and strong rapport with the student body is just as important as talking to donors for fundraising. Being a President is a job with many duties, he said, and you have to attend to all of them.
Another student asked Brown about his relationship with student government in the past, and how he feels a President should interact with SGA. In the past, Brown has helped student government set agendas and budgets, promote social events, and draw people to campus.
Brown has talked with Vice President for Student and Community Services, Mary Anne Nagy.  A big challenge for interacting with student government is the fact that students constantly come and go – they gain experience on campus, become successful, and graduate to move on to their professional goals. Due to this turnover in students, Brown believes that it is very important to have leadership assistance outside of just students alone. This is because it helps ensure that plans and hard work is continued, even when those who begin it have moved on.
Why come to Monmouth University? What brought Brown to Monmouth is a desire to continue his leadership experience, beyond that which he already gained at Lehigh, Yale, and NYU. Also, another attractive feature was the fact that the President's house on campus is big enough to support several dogs, he said jokingly.
Brown admitted that he could stay where he is at Lehigh, because it is a good university. He runs a college at a senior leadership level there. He is also involved with enrollment management and financial aid. He has dealt with serious issues, and Brown feels that his experiences and background have prepared him to be capable of sitting "at the head of the table."


Rather than becoming a Provost, Brown feels that he is ready to take on the responsibility of a President. He currently works with Lehigh's Provost all the time, and he feels that the President's role is more interesting and more appealing to him.
Brown said that because of his success at Lehigh, the search committee, in a sense, came looking for him. He said that Lehigh is a step beyond Monmouth currently, and the issues and challenges faced here are very similar to those at Lehigh. He would love to be able to tackle these issues in the context of Monmouth University, where there are tremendous things going on for the students.
Another enticing factor for Brown is the location, being so close to New York and the ocean. Monmouth also offers a strong curriculum and academic programs, including the science department, which is an ever-growing and expanding field in the United States, said Brown.
More importantly, "You have a student body that's committed," said Brown.
Some students wonder what sort of changes a new President might wish to make to Monmouth, when they are selected. One student asked what would be Brown's top priority, in terms of changes?
Brown said that some facilities need attention, especially the science facilities. They could use improvement and renovations to strengthen the programs that already exist. In addition, he believes that the student body could have more exposure to international study.
Something very important to a well-rounded education is to surround yourself with people who are not like you. This promotes a "global mindset, worldlier, and overall more employable and successful students," said Brown. At Lehigh, there is substantial international experience through study abroad and international internships. That is something he would like to see here at Monmouth.
Another way to be involved and well rounded is to be involved. Students questioned Brown about his opinion of Greek life at Monmouth. At Lehigh, 40% of students are involved in Greek life, and Brown is involved himself. There is university sanctioned on-campus Greek housing at Lehigh. Going Greek is an incredibly important experience for students, said Brown.
Brown views Greek life as a way to demonstrate leadership, give back to your university, give locally, and help build your resume. He admits that Greek life should not be held on a pedestal, but it is important and is another way that students can become engaged.
Another student mentioned how the other previous Presidential candidates explained their commitment to responding to students, and asked whether Brown would correspond with students directly or not. He replied with saying, "I am a junkie for emails…so my answer is yes." To answer more fully, Brown explained that email is his central access point, and if students ask him questions, he knows either how to help directly, or where to go to find help.
At Lehigh, Brown is involved with applicant pools, and has learned to read through and respond to emails very quickly. He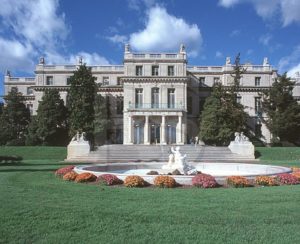 reads his own emails, and only has one email account.
Brown said that you always have to do the best you can in every situation, especially during crisis situations, such as Superstorm Sandy. "The President and Monmouth University did a great job," he said.
The relationship that a President has, offers a symbol to the University, and it has very real dimensions, said Brown. After college, students should be able to do what they want to do, and what they came to college for in the first place. Therefore, it is the responsibility of the administration to provide career services and any help necessary for their students to succeed.