(WEST LONG BRANCH) – Student Activities Board and Boom Roasted Productions -a student run theater group at Monmouth University, co-produced this year's Haunted Tour of Wilson Hall on Oct. 25. The tours began at 8 p.m., and the last tour ended just before midnight. This year's Haunted Tour of Wilson Hall opened the building up to students after office hours in a way that's never been done before.
Two years ago, SAB presented a very successful historical candlelit tour of the Wilson Hall, according to Vice President of Major Events for SAB, Lucy Russo. The club as a whole agreed that the event would be even more successful if Wilson Hall was turned into a haunted mansion. Russo heard favorable things about Boom Roasted Productions and thought this organization's reputation with performance art would be an asset to the event. "I thought it would be incredible to ask them to join us and help create the ultimate horror experience for students. I wanted real actors with experience playing these parts along with the SAB team to deliver the best story yet," said Russo.
Russo and SAB worked closely with the Boom Roasted President, Michael Rosas to develop a theme for the tour. Rosas researched the history of Wilson Hall and tied in a real event to the haunted tour, the historical tragic fire that burned down the original Wilson Hall in 1927.  According to Monmouth's Guided Tour publication, Wilson Hall reopened in 1929 after it was re-constructed into the private home of Mr. Hubert Templeton Parson and his wife Maysie. Based on this historical fact, it was decided that the theme of this year's haunted tour should be a reopening of the Wilson Mansion under the ownership of Mr. and Mrs. Parsons. "I first thought up the rooms themselves, and then afterwards came up with the story to go along with them," said Rosas.
Rosas said that he received a whole list of facts about Wilson Hall from Megan McGowan, Assistant Director of Student Activities and Student Center Operations, which helped with the narrative construction.  Some aspects were continued from previous tours, including factual history discussions and scare zones. In addition, this year's haunted tour was inspired by "Sleep No More" – an interactive theater production created by the British company Punchdrunk which allows audience members to guide themselves around a building as the performance unfolds. Inspirations from the popular FX TV series "American Horror Story" were also implemented as the basement level of the building was used for scenes of exorcism and spiritual rituals.
Both Russo and Rosas wished to focus on a performance-based tour where tour guides would lead guests through and stop in certain rooms to view short scenes. Along the tour route, there were also designated scare zones where actors would hide and startle visitors en route to their next destination.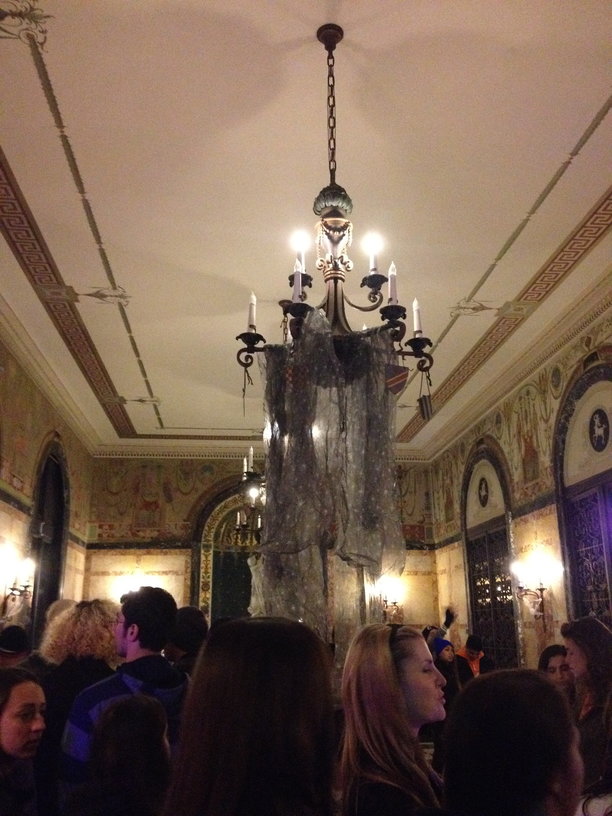 During the Haunted Tour of Wilson Hall, tours were similarly interactive as in the "Sleep No More". The guests walked through the building and were able to experience the actors' performances as they stood directly next to the characters, in some cases. The tour featured performances in locations such as the Billiards Room, a Shaman Room, a Chapel, Mrs. Parson's Closet, Infirmary and others.
Mahalia Jackson was a prime member of Boom Roasted's artistic committee for the Haunted Tour and had a great time collaborating with SAB. She said that she was very impressed with the costumes, props, refreshments and decorations which were chosen to fulfill creative ideas and expectations for the event. "In this project I got the opportunity to hone my skills as a theater major by researching the period and the Parsons, setting up my specific scare zone (The Chapel Exorcism Scene), and by working with innovative scene partners, Anothony Barberio and Nicole Massabrook…I even learned some Latin to play the role of the possessed!," explained Jackson.
While the guests visiting the tour from an audience's perspective were able to enjoy the experience, the actors did as well. "My favorite part of the entire event was actually being a tour guide. I'm more into a contemporary form of theater that really breaks down the fourth wall and that is based off of interactivity," said Rosas. The tour guides had the opportunity to interact with the actors performing scenes throughout the tour, and also with guests who could respond directly to what was going on in front of them.
"I would compare this year's Haunted Tour to the past years' as tremendously improved," said Russo. "Past tours were solely focused on the history of the building, so adding the haunted mansion theme and the haunted house feel…resulted in a better reception from those who attended the event."
Both clubs worked together diligently to produce an extremely detailed and successful event that truly entertained and thoroughly frightened the guests. "I had a really good time. I didn't expect it to be as scary as it was, but all of the participants stayed in character and I found myself clenching my friend's arm the entire time!" said Sandie Figueroa, a senior at Monmouth who braved the experience with a group of friends.
"SAB and Boom Roasted have created a wonderful new relationship, I feel…SAB really did their best to create a good relationship with our club. They were very supportive throughout, they were very organized, they asked the right questions, they set up at the right times, and most of all, they were grateful", said Rosas. "SAB was very supportive and they have asked us how they can support our next event, so we're definitely going to keep in contact with them if they ever need anything, because of how great this experience was," he added.
Russo shared Rosas' enthusiasm for this new collaboration that's been created around the Wilson Hall haunted tours. "The partnership with Boom Roasted Productions helped to tremendously increase both the quality of performance and the story line", she remarked. "I have never been so impressed with a group of people in my life. It was an honor to work with Boom Roasted Productions and to see how well SAB collaborated with them and proved their own acting excellence!"
With the completion of their first co-produced event, the Monmouth community will have to wait and see what is next for the SAB and Boom Roasted partnership.  But until then, Wilson Hall may continue to seem like an administrative hub for the institution, during the day.  However, according to those who have experienced the Hall in the dead of the night, it is capable of taking on a much darker, eerie persona. If you find yourself caught in unintended haunted adventure, be aware of ghoulish fiends who stalk the corridors of the building and wait for the opportune moment to startle unsuspecting guests.