WEST LONG BRANCH, N.J. – On December 7, 2016, Monmouth University's professional business fraternity, Alpha Kappa Psi, hosted "Gingerbread House for a Cause," an awareness event for their philanthropy, Habitat for Humanity.
On that Wednesday night from 6-9 p.m., brothers of the fraternity and MU students in attendance gathered in the Magill Commons dining hall to build gingerbread houses to raise awareness for Habitat for Humanity in Monmouth County.  With the Christmas spirit in mind and generosity in their hearts, Alpha Kappa Psi's philanthropy awareness event was a great success.
Students were given the opportunity to build their very own gingerbread houses while learning about Habitat for Humanity from the brothers of Alpha Kappa Psi.  It was a great event for people to come together and celebrate the holiday season while learning about an organization that does so much for people in need.
Not only was this event timely for the Christmas season, but it was also relevant to Habitat for Humanity, an organization that builds and rebuilds actual homes for people who need them all around the world.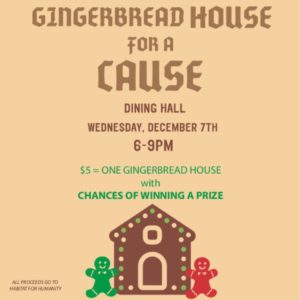 Since their founding date in 2011, Alpha Kappa Psi has worked with Habitat for Humanity doing volunteer work, donating, and building houses with the organization.
"Alpha Kappa Psi participates in builds within the community. These builds consist of on-site construction that involves physically being involved in the construction of a home.  We also participate in events such as the annual gift wrapping stations, and a soon to be dine-around event," says Alpha Kappa Psi's President, Joe Madaio.
Madaio also expressed the close relationship the fraternity has with the organization. "Habitat for Humanity means the world to Alpha Kappa Psi.  It provides our brothers with real experiences and it impacts our community. The hard work that goes into volunteering offers a rewarding lesson to the brothers striving to make a difference.  We also love to give back, and provide a check of donation to Habitat for Humanity on behalf of our chapter to continue to their mission within Monmouth County!"
According to their website, Habitat for Humanity has helped more than 6.8 million people from across the globe have safe, affordable, and healthy places to live thanks to incredible donors and volunteers.  Alpha Kappa Psi has played a very active part in volunteering and donating to Habitat for Humanity, especially the one right here in Monmouth county.
Alpha Kappa Psi's biggest philanthropic event for Habitat for Humanity each year is their "Hawk Feud" event, usually held in Pollack Theatre.  Unfortunately, this year's "Hawk Feud" did not bring in the same crowds as it usually does due to a school lockdown the night of the event.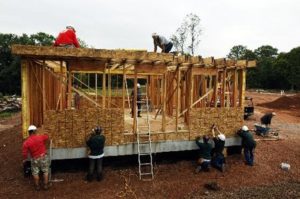 The fraternity refused to let that unforeseen circumstance affect their annual event that supports Habitat for Humanity, so "Gingerbread House for a Cause" was born.
"We really wanted to have this extra event to show Habitat for Humanity our dedication," said Alpha Kappa Psi's Vice President of Administration Jennifer Hallam. "Just raising awareness on Monmouth's campus by doing a small event like this really makes a difference."
Approximately 30 students and brothers came out to support Habitat for Humanity by building gingerbread houses, and learned more about how to get involved with the incredible organization.  It was so amazing to see people spread holiday cheer and show their commitment for such a great cause at the same time.
For more information about how to donate or get involved with Habitat for Humanity, visit their website at https://www.habitat.org, or contact Joe Madaio, President of Alpha Kappa Psi at monmouth.akpsi@gmail.com.
https://youtu.be/nZpfQY70mKM