WEST LONG BRANCH, N.J.–On April 7, four comedians from the Upright Citizens Brigade will be performing at the House of Independents in Asbury Park.
The UCB is a comedy troupe that tours around the country performing improvised comedy routines for several different types of audiences. It was founded by some famous names, including Amy Poehler, Matt Besser, Ian Roberts, and Matt Walsh. According to the troupe's website, it "has been home to some of the biggest stars in comedy today." The UCB also has fixed locations around the country where there are regularly scheduled performances, but its performers can also be seen at various venues around the country.
According to UCB performer Yoni Lotan, 29, of Tenafly, N.J., producers of the shows contact colleges, schools, concert venues, and even synagogues to book performances. Once the venue is set, four performers will arrive to perform their comedy routines.
Lotan explains that the group has to be flexible, but they can make the show work for any audience whether that is a bar or religious venue. In fact, the show is driven by the audience itself.
"We start the show off by interviewing one of the audience members and drive the show off of that," said Morgan Miller, 27, of Denver, C.O. Miller has been with the UCB for three years now.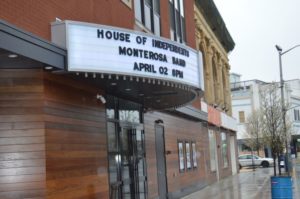 Both performers explained that, to start the show off, an audience member is called up at random and asked a series of questions. Their answers will give the performers material to base their improvisation on. Although this is an easy way to get a jump-start on topics, performer Stefan Schuette, 29, of Raleigh N.C., says there are some issues.
"Essentially, we want honesty, but sometimes the audience member can be really guarded," said Schuette.
Keeping this in mind, the performers explain that the more they can get from the audience member, the more material they can work with and the better the show will be.
The on-stage interviews are very important to the performance, but they also leave the performers in an interesting situation. They have no idea what is going to happen from night to night.
"Nothings planned. It's completely improv, and completely based on the audience," said Lotan.
This spontaneity can be great benefit to the audience, considering no two shows will ever be exactly the same. This is especially fantastic for those who saw the UCB when the comedy troupe previously performed at the House of Independents. Besides the difference in performance, the cast will be different as well.
On April 7, Lotan, Schuette, and Miller will all be performing there for the first time along with Keaton Patti, 27, of Pittsburgh, P.A. These performers became a part of the UCB after being invited to audition and passing with flying colors. They have been touring with the UCB ever since.
"It's very fun and very rewarding," said Lotan. "There are so many types of crowds and it is great to collectively enjoy it."
Don't miss the UCB this Thursday night at the House of Independents!
https://www.youtube.com/watch?v=S_Jl4DN0XII&feature=youtu.be