WEST LONG BRANCH, N.J.–It's 10 p.m. on a Sunday. I'm sitting on my bed surrounded by stacks of precariously piled books, scattered papers, and uncapped pens. My laptop sits atop my thighs. Two tabs are opened on Google Chrome. One is a Word document for an English essay, and the other is Netflix.
The writing assignment is due tomorrow morning at 8:30 a.m., but I'm all aboard the procrastination train, and it doesn't look like I'll be getting off anytime soon. I'm watching "Orange is the New Black," and my hand in a bag of potato chips. I'm spiraling deeper and deeper into the abyss of Piper's county jail experiences as hour after hour passes by without any academic efficiency.
Netflix has become a common obsession among college students today, as more and more students revert to streaming services to satisfy their entertainment needs. I decided to find out a little bit more about this particular streaming service, why it appeals to college students, and how it's beginning to take over traditional television as an outlet for entertainment.
Angela Ramos, a junior at Monmouth, said she doesn't have a television in her apartment, so she just uses Netflix.
"I'm a huge fan of Netflix. Absolutely obsessed," Ramos said. "I like 'Grey's Anatomy,' 'Bob's Burgers,' 'New Girl,' 'Game of Thrones.' I could go on forever."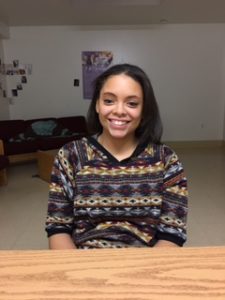 Similar to Ramos, I too opted out of lugging a television to campus this year. I figured I could use the empty space, especially because I rely mostly on Netflix as a means of watching my favorite shows and movies.
"When you're in college, you don't really have a set schedule," Ramos said. "You have different class times every day and piles of homework to do, so sometimes you're not available to tune in during prime time."
Robert Scott, a professor in the Communication department at Monmouth, is also a Netflix user. He also subscribes to a variety of similar services, including HBO Now, Amazon Prime, and Pandora.
"We probably use Netflix more than anything else, but occasionally find it frustrating when we cannot find specific content or connectivity becomes an issue," he said. "If I could ask for anything to change right now, I wish I could simply click on one source that offers access to ALL the movies, TV shows, Internet video and music my family wants at any given moment."
Assuredly, Netflix does fall short in its variety of offerings, as do most streaming services. There isn't one available outlet that allows a viewer to get their hands on everything they'd like to watch. In other words, there is no Costco of shows and films. Regardless, people like Professor Scott and Ramos are still on board with Netflix.

"I truthfully believe that at this point, Netflix can do no wrong," Ramos said. "I'm personally a huge fan of several Netflix originals. These shows all have near perfect ratings and are five star hits."
Professor Scott agreed that Netflix is changing the way people watch television.
"I don't know if streaming services will take over television, but they're certainly causing a seismic change in the pay TV landscape as we continue to see the disruption of TV everywhere," he said. "These changes are now impacting the business of pay TV and subscription video on demand."
Now that people have a variety of choices at their fingertips, it often makes it hard to choose what to watch and where to watch it from. Sometimes I'll find myself aimlessly surfing Netflix to find something worthy of a few hours of my time, similar to the way one would flip through channels on a TV.
Another positive of Netflix when compared to television is perhaps its best attribute: there are no advertisements.
"There are no commercial interruptions and less buttons to push before the video starts playing," Scott said. "For now, technology is improving daily."
Sami Savona, the station manager of Hawk TV, is yet another Netflix subscriber. She notes haw effective it is that Netflix targets all devices.
"It's more practical for me than TV," she said. "I do like the idea of their shows coming out with a whole season as opposed to having to wait weekly for a show. There is even a Netflix app to make the streaming services available always."
However, in regard to whether or not Netflix and similar viewing platforms will overcome traditional TV as a means of entertainment, Savona is unsure.
"We discuss a lot of trends with television platforms and the biggest thing that I learned is to know your audience," she said. "There is competition in any field of work, so it is very important to grasp what the viewers want before another market."
Well, it's certain that Netflix has "grasped" me, and I'll remain stuck there in the palm of its hand until I've finished all seasons of "Orange is the New Black." It seems Netflix truly is the new television.