WEST LONG BRANCH, NJ – If you have ever traveled via airplane, you know that the process of airline travel is often tedious and uncomfortable for those who are not fortunate enough to fly first class.  Despite the myriad of tweaks and changes that airline companies have made over the years, airlines have yet to create a comfortable environment for those traveling in coach.
It's a known fact that airplanes all have one universal problem: they lack legroom. With seats so close together, it's hard for customers to stretch out and get comfortable. This has become one of the main concerns for numerous different airlines. They're not only brainstorming ways to provide more room for their flyers, they're also focusing on how they can maximize their flyer's experiences.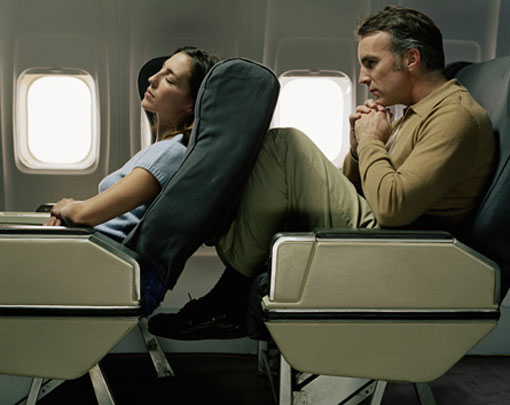 Seth Miller, the author of the blog, Wandering Aramean, which focuses on travel as well as the experience of airline passengers stated at the Aircraft Interiors Expo, "seat manufacturers are constantly tweaking normal layouts and amenities in an effort to optimize the cabin." Companies are exploring different layouts that could ultimately be beneficial to both the airline companies, as well as their customers.
American Airlines is just one of the aircraft carriers that are revamping all of their planes. Not only will they be focusing on making their seats more comfortable for their customers, but according to their website, they will be adding more technological advancements on their flights, such as personal, in-seat entertainment, Wi-Fi, USB ports and universal power outlets.
Adding these accommodations to their aircrafts is differentiating American Airlines from their competitors and giving them a desirable edge. This nation is so dependent on technology and that's exactly what American Airlines is providing. Not only are they offering Wi-Fi, but they're also providing outlets as well as USB cords to plus your devices into, accommodating all of their passenger's technological needs.
"I think the most important thing for me is Wi-Fi as well as some sort of outlet to plug my device into, said Erick Galason, a frequent flyer and Colts Neck resident."  "This way, I don't have to scramble in the morning trying to find a charger to plug my phone and laptop in before I board."
He continued, "As an IT tech for a trading company in the city,  being available even when flying is very important. It would be more convenient to be able to respond to emails and iMessages while flying, rather than having to deal with them all once I land."
Passengers want to see more technological advancements on their flights. People want to feel comfortable and relaxed when they're flying and, as a result, more and more airlines are brainstorming ways in which they can give their customers the greatest experience that they can.
While these advancements, such as Wi-Fi, are well received, they will come at a cost. Airlines will charge for Wi-Fi at a fixed price, which will vary between companies.  For example according to AirportWifiGuide.com, American Airlines charges $16 + tax for an all day pass and $49.95+ tax for a monthly subscription. Southwest Airlines offers on board Wi-Fi for as low as $8 a day. The prices vary depending on where you're flying to and what airline you're taking.
Not only have airline companies added comfortable seating and Wi-Fi but also they're constantly brainstorming new ideas of how they can improve their planes. The Boeing Company has made it their goal to provide their aircraft carriers with the newest technologies and commodities.
It is likely that airlines all around the world will one day consist of personal pods, invented to provide passengers with the ultimate flying experience.  These personal pods are something that other county airlines have started to use, such as Singapore Airlines and Swiss Airlines. These pods consist of seats that can be converted into beds, the finest foods imaginable, and the privacy that all people dream of when on a flight across the country.
New technologies have provided passengers with a new and improved way to fly. Whether it is the Wi-Fi service, or the newly revamped seats, passengers embarking on numerous different trips will no longer dread the long, uncomfortable ride. These new commodities are just the beginning; soon enough each airline will be equipped with the greatest technological advances and the most luxurious seating imaginable.
So for now, relax, buckle up and enjoy the ride. Before you know it, you'll find yourself wishing the flight were longer, just to get a couple more minutes in the comfortable seat you're in.