WEST LONG BRANCH, N.J.–Amongst all of the ridiculous rants and outbursts made by the self-proclaimed "most important living artist," Kanye West has released a body of work titled "The Life Of Pablo" that will undoubtedly be taken seriously for an Album of the Year nominee.
"The album definitely lived up to the hype and was well worth the wait," said accounting major Kevin Lester, who is a fan of the acclaimed TLOP. "I think this project ranks among one of the best that he has actually released."
Like Lester, Yeezy being a genius is really the only thought that flooded my mind when listening to TLOP. The production on this album is so eccentric and different than any other body of work that Kanye has released before. He is one of the few artists that can switch up his sound frequently and usually get a good reaction.
There are 18 songs, and almost a feature on every one. The album opens up with "Ultralight Beam," which features The Dream, Kirk Franklin, and Chance the Rapper, who is also featured on "Waves." This latter song was actually the reason that TLOP's release date was pushed back for a couple of days. Kanye created the hashtag #BlameChance on Twitter as a joke referring to the delay.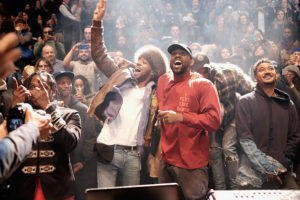 The coolest song on the album is without a doubt "Father Stretch My Hands Pt. 1." The song takes a little bit to get started, but then the beat drops with Future shouting out Young Metro, and Kid Cudi starts singing. Even with a ridiculous verse delivered by Kanye, it still surpasses every other song. In short, it is an absolute masterpiece. It is unfortunate, however, that Cudi did not get a chance to showcase his lyrics here, as Kanye only recruited him for the hook.
"Real Friends," "Wolves," "30 Hours," and "Facts," were all released by Kanye leading up to the album. "Facts," however, was slightly different. The original beat was switched for a beat produced by Charlie Heat, who has also worked with possible XXL Freshman of 2016, Lil Uzi Vert.
"Fade," is another great song on the album that includes Post Malone, Ty Dolla Sign, and a funky beat that slaps. The minute the beat drops, it is impossible to not move to it in some way.
Listeners may also be surprised to find out that Kanye is still updating the album through Tidal, since he did not release physical copies yet or a digital version on iTunes. For example, the musical mastermind stated he was fixing "Wolves" by putting Vic Mensa and Sia back on the track.
The funny thing about Kanye is that he knows exactly how much leeway to give someone on a song. If lyrics are not the artist's strong suit, he will never throw them on a song and let them take control of the lyrical content. For example, Young Thug is definitely not known for his lyrics, but he does have a melodic flow and can be counted on for great ad libbing. It is no surprise, then, that this was the area Kanye assigned him for the song "Highlights." I chalk this up to Kanye being so in-tune and focused on making his music the best it could possibly be.
And he will continue to do so. Kanye has announced that from now on, he will be releasing three albums a year. Apparently, we will have a new album from him this summer titled "Turbo Grafx 16."