WEST LONG BRANCH, N.J. – Each February, Black History Month is celebrated and is a time during which the contributions of iconic minds within the African American community are honored. Monmouth University annually commemorates Black History Month with great enthusiasm by hosting many events and programs to educate the University community.
The formal induction of this week's long celebration began with a flag raising ceremony held in Wilson Hall on Feb. 5. Many student organizations, faculty members and Monmouth alumni excitedly attended the event on a frigid Wednesday afternoon.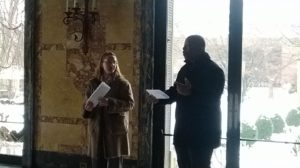 The tricolor Pan-African flag was officially raised on the university campus to further demonstrate a pride and respect for the African American community, and members of it from both the past and present.
As mentioned by various faculty members throughout the ceremony, these theories do not merely represent great conflicts of the past; rather, they have molded our society in such a significant manner that their theories of equality and their quest for justice have become an integral part of our belief system. Claude Taylor, Athletics Professor-in-Residence and a member of the Communication Department staff, said:
"I think Black History Month is still a very important form of national recognition for the progress black people have made in America with regard to civil rights…In my mind, Black History Month should be a valuable American celebration of our progress as an entire country. …the main issues of the civil rights era are very real and still with us.  Racial prejudice, discrimination and economic inequality are major issues that need to be improved. Life in America today is better for black people than it was in the past, but none of us, as Americans, can be satisfied with the many social, political and economic issues that continue.  For example, there has been much recent news reporting about the wealth gap between whites and blacks; this is a significant issue to raise during Black History Month." 
After the flag raising ceremony, the Glee Club and the National Council of Negro Women performed for the audience. Below is a video of their performance:
[Video By Shreeja Kadakia]
There are multiple events to be held throughout the month that aim not only to educate, but also to make the campus community consciously aware of the lasting impacts of the theories proposed by some of the great African American thinkers. The following is a list of some of these planned events:
Feb. 11- Black History Month Featured Poet: Marcus Wicker- Wilson Auditorium, 4:30pm. Marcus' new book "Maybe the Saddest Thing," is a glimpse into the life of an African American poet who found his identity in suburban Michigan. It is described in an itinerary email sent out by Monmouth University Assistant Director of Student Activities, Heather Kelly, as "Action painting meet(ing) the pop of hip-hop."
Feb. 17- "The Butler"-Wilson Auditorium, 4:30pm.  As Cecil Gaines serves eight presidents during his tenure as a butler at the White House, the civil rights movement, Vietnam, and other major events affect this man's life, family, and American society.
Feb. 26 – Student Performance Show-JP 235, 2:30pm. CommWorks is planning an event that focuses on diversity and includes poetry, monologues/stories, and some duo or group performances.
The flag raising ceremony was a fitting inauguration for the upcoming events of this month. Amid Monmouth University's celebrations of Black History Month, the messages of the great African American thinkers are once again echoed in the background as they so elegantly manifest themselves in the various performances. Indeed, Black History Month is not a celebration of past events; it is a celebration of our current lives.