WEST LONG BRANCH, N.J.–When Paige Rotunda found out that she had been accepted to American University's study abroad program in Paris, France, she nearly cried. She had always loved to travel, but this was different. She'd be living in another country for a total of four months.
As thrilled as she was, she was also incredibly nervous. "I guess it wasn't just nervousness," Paige said. "I was actually pretty terrified."
After all, she was going to live in a foreign country, surrounded by people who spoke a language with which she was just beginning to familiarize herself. She had been assigned to live with a host family in a small apartment, roughly 40 minutes outside of the city center. She did not know any of the other eight students in the program.
Despite her anxieties, the small-town, tiny-framed girl with big glasses decided that this was just what she needed: adventure. And that's just what Paige got.
On a chilly night in November–Friday the 13th, no less–Paige and fellow American University students Keara and Gabriella decided to dress up and grab a drink at Bespoke Cafe on Rue Oberkampf. The street ran parallel to the Bataclan Theatre, one of the unlucky sites chosen by IS terrorists.
Paige and her friends were sitting inside the cafe when they heard sirens and saw red and blue lights flashing through the glass windows.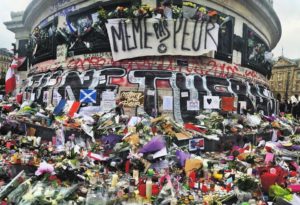 "The police stormed my street to get there," Paige said. "In the moment I had no idea that it was a terrorist incident. Then my friend turned on her Wi-Fi on her phone and was receiving all of these messages asking if she was alright."
Paige had opted out of an international phone plan before leaving, and relied strictly on Wi-Fi to communicate with family and friends. This made it especially difficult to check breaking news or other information when she needed it. It was a fellow customer who approached Paige's table and warned the group that there had been a shooting down the street and that the cafe was going to be in lock-down.
"I could see that there was a gate over the door at that point," Paige said. "But I didn't really feel scared until we evacuated because I wasn't aware of the magnitude of the shootings. We saw the whole SWAT team and army trucks outside, but I was still confused."
For about a half hour, Paige and her friends lingered outside in a chaotic crowd of people. For her, this part of the night was the most terrifying. All around her, roads were blocked off and distressed people attempted to communicate with their families and friends.
Paige managed to contact her mother, Erin Rotunda, when she used her friend's cellphone. Erin was at a nail salon when Paige first called her and spoke to her briefly. Paige later considered the conversation bizarre, because her mother was much calmer than she expected her to be.
"I knew I had to stay calm," Erin said. "I couldn't panic. It would only worry her more if I did and I was just trying to stay in a positive state of mind."
But Paige's friends weren't nearly as composed as her mother, and she received hundreds of concerned messages over Facebook and Instagram. A fellow friend from Connecticut, Michael Damalas, who was studying abroad in Brussels, texted her on her French cell phone as soon as he heard news of the attacks.
Michael communicated with Paige through most of the night and then sent out updates to her friends and family over social media platforms. Michael said he was the first person to text her.
"I was the only friend who had her temporary Parisian number," Mike said. "I was texting her from Dublin, and her texts got a little frantic when she evacuated the bar."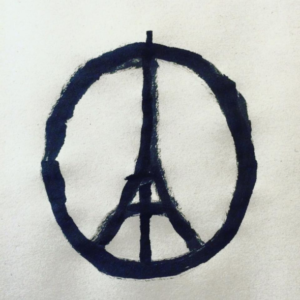 A program director from Sorbonne University eventually found Paige and her friends after navigating several blocked roads to find them. They were driven back to the director's house, where they spent the night together, absorbing the terrifying news updates.
Paige didn't sleep that night, and would struggle to make sense of the experience for months after. A total of 130 people were killed that night, and hundreds were injured. Three students from Paige's program went home after the incident for fear of future terrorist attacks, but she was firm in her decision to stay.
"I probably think about the attacks every day. Not to be dramatic," Paige said. "But it made me more connected with the city and the people living there. Overall, it's a small part of the amazing things I experienced on my trip."
Paige did, however, find it frustrating when she returned home and was plagued with questions and curiosity about the terrorist attacks rather than her overall experience.
"I can't talk about where I studied abroad without someone bringing it up," she said. "I think what's interesting is that I have such a rehearsed story for it, and I never fully bring myself there to actually think about it."
But when the recent attacks occurred in Belgium on March 26, Paige said she was forced to remember her experience and recognized that she hadn't given herself time to process everything. "I didn't realize how affected I was until I relived the same scenes on the news watching the mess in Brussels," Paige said.
Despite the terrors of her experience, Paige recognizes that there isn't any guarantee of safety when traveling abroad, and it's something she no longer takes for granted. "I wanted to go to Morocco originally," she said. "But my parents said no because they thought it was too dangerous, and look what happened."
At the end of the day, regardless of how many times she receives questions about the tragedy, Paige knows that a piece of her heart will always reside in Paris.
"While we were walking down the street after it happened trying to get home, people were opening their doors and offering their homes for us to stay in," Paige said. "I grieved like a Parisian because I was so in love with that city, and I still am."