WEST LONG BRANCH, N.J.–Almost everyone has heard of Nicholas Spark's original novel, "The Notebook," even if they are not a fan of his. Sparks is one of the most loved and most hated authors of this generation. He has been capturing many readers' attention and imagination with his swoon-worthy characters and irresistible love stories for years now.
Even though many of his novels have the same characters and themes, his fans are still purchasing his books. (I'll admit, I am also guilty of reading his novels because they are just a feel good, mind-numbing read. After a long day of reading textbooks and studying, it is nice to have a novel that can help unwind your brain.) This is especially true with his new novel,"See Me." The recent release has had many fans interested to see if the story would compare to his previous novels.
"See Me" is set in North Carolina, like all of Sparks' novels. The two main characters meet when they are least expecting to find one another. "Fate" is described when Colin drives down a back road on his way home when he spots a woman named Maria on the side of the road with a flat tire. At first, Maria is unsure of Colin. It is dark, and no one is around to help her if Colin turns out to be a psychopath. However, Colin fixes Maria's tire and drives off into the night without any real exchange of conversation. I am sure many people have read a similar scene in different novels.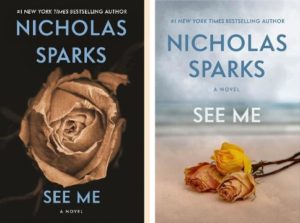 Both of the main characters are described as beautiful, but both have had a tough past, which is why they prefer to be alone. Many people have read a similar scene in different novels. Protagonists who have a troubled past is another recurring theme in many of Sparks' novels.
When I reached the point in the book where Maria and Colin began falling in love, the scenes felt rushed. Maria and Colin spend a weekend together partaking in fun activities, with minimal dialogue between the two. But by the end of the weekend, they already have feelings of love for one another. These scenes in the novel are very far-fetched, but hey, that's Nicholas Sparks for you. I feel like each new novel I read from Sparks is filled with little regurgitated pieces of his previous stories–this book being no different.
The question I ask most is why does Nicholas Sparks stick to the same themes, characters, and outcomes in every novel? Granted, each novel has seemingly different challenges, but at their core they are all pretty similar. Many Sparks fans, I imagine, can pick up a novel and know immediately who the author is without having to look at the cover; his tone of writing is just so recognizable.
Despite being almost predictable, each time a new novel is released by Sparks, its ends up on the New York Times Best Seller list. "See Me" is no exception.
As a fan, I hope that the next novel that Nicholas Sparks writes is something completely different than his previous novels. I do not want to purchase a book and feel like I have already read it before. When a person starts reading a novel, it should be so intriguing that they cannot put it down until they have read the whole thing. I often felt I was forcing myself to finish "See Me," instead of really enjoying it.