WEST LONG BRANCH, N.J.–Scrolling down a Facebook or Instagram newsfeed, one cannot always be sure what to expect. But friends of James McMahon always know they are in for something uplifting when they see his name pop up on their screens.
McMahon's social media profiles are peppered with inspirational quotes from historical figures ranging from Winston Churchill to Muhammad Ali, as well as countless other sources. "Be somebody who makes everybody feel like a somebody," reads one motivational post from the day after New Year's. "No one can go back, but everyone can go forward," reads a more recent status.
The 21-year-old senior business management student has been sharing these kinds of positive messages ever since he joined CrossFit, a fitness group that, according to him, could not have entered his life at a more perfect time. McMahon felt down, dejected, and lost–unsure of the major he had chosen to study at Monmouth, but sure that he had failed his parents and the dream they had crafted for him to follow.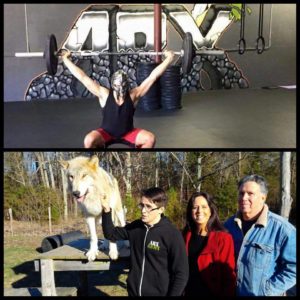 Becoming a member of CrossFit marked the beginning of a journey that would reverse McMahon's dark feelings. And, while every day at CrossFit gradually built him up both physically and mentally, one day now stands out in particular. Before a CrossFit Open competition, his coach shared an inspirational video that opened with the musings of Aristotle: "We are what we repeatedly do. Excellence, then, is not an act, but a habit."
"That single video started what would become a daily habit of finding and listening to people like Elliott Hulse, Eric Thomas, Steve Jobs, Jordan Campbell, Ray Lewis, Greg Plitt, Les Brown," said McMahon. "And just trying to absorb their words and apply it to my daily life."
"When I started to see a positive change in my own life, I decided that I wanted to share everything I was taking in," McMahon continued. "So, I would take quotes from the books that I read and the speakers I listened to and share them with anyone who would listen. I wanted my own life to represent possibility, that if there is something you feel you deserve, that if you just put in the work and do it wholeheartedly, that you can achieve anything in school, in the gym, at your job–anything life throws at you."
It turned out that there were actually a lot of people who would listen. McMahon's posts garner many likes from his friends on Facebook and Instagram, but complete strangers also reach out to tell him that his messages have made a positive impact on them.
With so many fans, he has no intention of stopping anytime soon.
"I know for a lot of people the nicest things they hear are the things they tell themselves," said McMahon. "I want to show people that through self discovery we can find the strength to accomplish every goal we set out to achieve. Defeat is just a state of mind, we are not defeated until we have accepted it in our mind, and we are not made for defeat."