WEST LONG BRANCH, N.J.–Ordinary college students search for the awards and scholarships that they want to apply for and complete pages upon pages of applications with their fingers crossed. But every once in a while, when a truly extraordinary student comes around, it is the professors and coaches who clamor to apply the student themselves.
That was exactly the case for Sarah Olson, 22, a first-year graduate student at Monmouth University and captain of its women's basketball team. Last semester, she was notified that her coaching staff had nominated her to receive a "community service award."
This award happened to be the very prestigious honor of belonging to the Allstate Women's Basketball Coaches Association Good Works Team, which inducts only the most outstanding student-athletes making decidedly positive waves in their communities.
"I had no idea that this would be the outcome," said Olson. "To be a part of the Good Works Team would be such an honor for me. It would be really cool to be recognized for all the work I do outside of the court and classroom."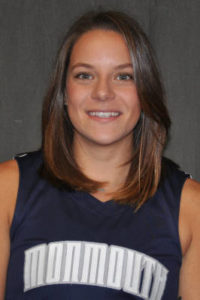 Based on Olson's stellar track record with community service and activism, it is no surprise that she is being officially considered for the Good Works Team.
She is the president of the Gender Studies Club, head of the campus sexual violence awareness group Not Alone, a "big sister" mentor with the Monmouth County chapter of nonprofit Big Brothers Big Sisters, a volunteer at the environmental nonprofit Surfrider Organization, and a workshop volunteer with the Alternatives to Violence Project in Garden State Correctional Facility.
"There are a lot of issues that I am passionate about," she said in an evident understatement.
Olson makes it look easy, but balancing so many passions with academic, athletic, and extracurricular ventures is just the opposite.
"It's really difficult to balance all of this with basketball," admitted Olson. "I have to be strict with myself about managing my time–getting all my work done on time, getting in to get treatment, getting extra workouts in and fitting in a social life."
"I don't do it alone, though," she continued. "I have an excellent support system in my teammates, my boyfriend, my family and university faculty. There are so many people that help me every day and I really could not do it all without them."
One faculty member is Dr. Johanna Foster, the Director of the Monmouth Sociology and Gender Studies Programs, who has taught Olson in three sociology courses. She is convinced that Olson is the best candidate for the Good Works Team and confirmed this belief by writing her a recommendation letter for the award.
"She is a shining star of our Sociology Program, of our MU Athletic Department, and most importantly, she is a student-athlete who is already making her mark on the world in ways that makes it a better place for all of us," said Dr. Foster. "She is a real inspiration."
Come February, when the official 2016 Good Works team is announced, there is no doubt that Dr. Foster and the others in Olson's support system will continue supporting her–this time, hopefully, in celebration.