WEST LONG BRANCH, N.J.–"This year was by far the best year for hip-hop music," said junior Natorye Miller.
2015 truly was a blockbuster year, where anyone who was anyone released music. Without a doubt it was a special year for the hip-hop genre in particular. There were many new faces that were able to make a name for themselves in the industry as well.
The year opened up with artist Joey Badass, who dropped his first album titled "B4.Da.$$" and debuted with it at No. 5 on the Billboard 200. That seemed to be a trend; the Billboard chart featured several other artists of the popular genre. Action Bronson was also able to make a strong debut with his album "Mr. Wonderful," which featured popular singles like "Actin Crazy" and "Baby Blue," the latter of which featured Chance the Rapper.
Travis Scott broke out and made a place for himself with his debut album titled "Rodeo." After dropping "Antidote," which some labeled as the summer 2015 anthem, he generated much hype for what was to come with his album.
After dropping several mixtapes and several hits including "March Madness," Future was able to gain a large following known as #FutureHive. "Dirty Sprite 2" shook up the summer and lived up to the hype. Many–including the author of this article–consider this their favorite album of the year. Mostly every song on this album creates such a hype vibe, which makes for such a high replay value. Future is not the most lyrical rapper in the game, but he has plenty of so-called "bangers," which is what most contemporary listeners want to hear.
Future's hits, along with those of Young Thug, whose 2015 hip-hop journey and level of lyricality resemble Future's, could be heard playing out of many people's speakers–especially in a college environment.
Meek Mill was able to reach the No. 1 spot on the Billboard 200 chart with his debut album, "Dreams Worth More Than Money." His first week sales exceeded 200,000 copies. However, due to a beef with Drake over not promoting his album on Twitter, both his sales and fan base drastically decreased. Drake came at him from all different angles on the diss track "Back to Back," but Meek was not able to respond accordingly at all.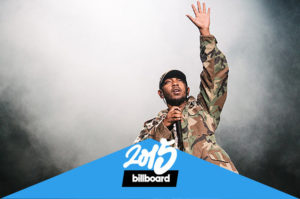 As for the so-called "rapper from the 6," Drake released his mixtape-turned-album "If You're Reading This It's Too Late" in mid-February. This album shook up the rap game, with the Billboard Hot R&B/Hip-Hop Songs Chart and fans alike eating the album up. In fact, it was the third best-selling body of work in the United States last year.
Drake also collaborated with Future for the hit album "What A Time To Be Alive." This was a blockbuster album because two of the hottest rappers created an album together at the height of their success. The album debuted at No. 1 on the Billboard chart with the help of their hit single, "Jumpman." It's fair to say this was Drake's year.
In the later months of 2015, Big Sean and Kendrick Lamar both released their sophomore albums to much fanfare and success. However, Lamar revealed to his audiences that he may never again play the songs from his "To Pimp A Butterfly" album. It was a very dark album that covered the pain and problems of living as a young African American in today's society.
A$AP Rocky dropped a similarly dark album, "At.Long.Last.A$AP," the cover of which was created to honor the late A$AP Yams. Yams, who passed away earlier in the year due to an unfortunate overdose, was credited for putting together the A$AP Mob.
There were also some breakout artists who made quite an impact in 2015. Of these were Bryson Tiller and new favorite Post Malone. Bryson Tiller released "Trapsoul," which was a great body of work from the popular song "Don't" to the brash, fast-paced "Rambo." Post Malone, on the other hand, had everyone dancing to "White Iverson," another contender for the track of the summer. He had been too busy with interviews and studio time creating other tracks to become "Rookie of the Year."
With so much talent in 2015, it will be very exciting to see what is in store for hip-hop fans in 2016. It will be very difficult to top last year!