WEST LONG BRANCH, NJ– The Metro Atlantic Athletic Conference (MAAC) held their first top-seeded host site Championship, for Women's Soccer and Field Hockey, at Monmouth University from November 7 to November 9.
In previous years, the MAAC Championships were held at a predetermined site that was announced in advance. A rotational bid process determines where the conference is to be  held each year. This year the MAAC changed their site to the top-seeded school in the conference for each sport. Assistant Athletics Director, Eddy Occhipinti said, "It is awesome for Monmouth University to hold two championship full tournaments in Field Hockey and Women's Soccer." He feels that Monmouth has the best facilities and team to run the championship tournaments. "We are the best staffed department in the MAAC," said Occhipinti. "And we have done this before in our old conference."
Spectator, Lynn O'Hara said that she thought Monmouth handled the pressure of putting on a MAAC Championship Tournament filled weekend with ease.
The Field Hockey and Women's Soccer teams both got to play their championship games in front of their fans. All of the championship games for Field Hockey were held at So Sweet a Cat Field, and all of the soccer games were held on Hesse Field. Occhipinti said that it was a great for the teams to be able to play on their home field for the championships.
Assistant Women's Soccer Coach, Kylee Flynn said, "We were excited to host the tournament, and play in front of our home fans."
Fans from both teams came out to all the games to support their team, which the student athletes enjoyed. "We loved playing on our field, with our fans, representing our school," freshman field hockey goalie, Christen Piersanti said.
Occhipinti mentioned that since Monmouth University was the host location for the Conference Championships, the University had to hold a banquet for the athletes.  It was held on Thursday, November 6 at the Ocean Place Resort and Spa, a sponsor of Monmouth Athletics. "We wanted to make sure we put on a great show," Occhipinti said. "We felt that they [Ocean Place Resort] would do a great job."


"The banquet was really awesome, the food was great and the award show couldn't have ran more smoothly," junior field hockey goalie, Tanja Kloock said. "Our team had a lovely evening!"
Junior soccer defender Colleen Howard attended the banquet with her team and said that at the banquet the MAAC Conference Committee gave out awards to the teams and individual players; award titles included player of the year, defensive player of the year and offensive player of the year.
On Friday, Monmouth was playing in two out of the four games, Field Hockey at 1 pm and Soccer at 8 pm. With the huge time gap between the games, students were able to go to both games to support their team. "The fans definitely pumped us up, our MU fans were awesome," freshman field hockey defender Rachel Konowal said. "We loved all the support!"
Junior soccer midfielder Cara Poole attended the field hockey game before her game later that night. "It was very cool to see how many students, and student athletes were at the game," said Poole. "It got me and my team pumped up for our game later that night."
Students withstood the cold night to stand and cheer for the soccer game as well. "The turnout was terrific and the environment was awesome to play in for our players even though it was cold," Assistant Coach Flynn said.
Before the Women's Soccer Semi-Finals, there was a tailgate for everyone attending, which started at 6:30. "One of the parents organized the tailgate and many of the players' parents donated items to the tailgate," Flynn said. "It was a huge success." An unnamed parent donated around 2,000 hamburgers and hotdogs.
Faith Garcia, freshman, attended the tailgate before the game, "The tailgate was very cool to have since we usually don't have them for all the games."
Flynn said that she believes it is a wonderful idea to have the tailgate for important games, but would be too much work to organize for every home game played.
All Monmouth and MAAC students were allowed into the games free of admission with a valid student ID, and children under 5 were also free. Six years and older were five dollars a ticket. This ticket would get the fans into the session of games they bought the tickets for. "We have to charge fans when we host a conference tournament," said Occhipinti. "But Marilyn [McNeil, Head Athletic Director] would never charge a student if we do not have to."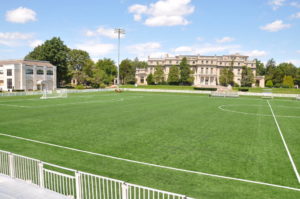 The Larchwood Avenue entrance was the main parking lot for the soccer games, and right in front of the So Sweet a Cat Field for the field hockey games. In the past, parking has been an issue at Monmouth. So, according to Occhipinti there was no charge for parking. "It is going to be an interesting Friday because there are more Friday classes than previous years," said Occhipinti.
Senior commuter student Caitlyn Bahrenburg said "I left early from my house to get a parking spot before class because of the games."
Men's Soccer also held a game, Saturday, November 8 at 3 pm, on Hesse Field for the first round of their MAAC Championships. Since they won, they played at Quinnipiac, Friday, November 14 and Sunday the 16 for the Championship game. The boy's team won the Championship game and ended their season at Xavier in the first round of the NCAA Championship. Field Hockey played a play in game at the So Sweet a Cat Field Wednesday November 12 where they played Princeton in the first round of the NCAA Championship. They lost 4-3 to end their season.