WEST LONG BRANCH, NJ– Considering the spring semester tuition bills that are now appearing in mailboxes and course textbook prices that are looming in the horizon, a seasonal trip across the Atlantic Ocean to Europe may not be the first thing on the average, penniless college student's mind this winter break.
However, with holiday markets and Christmas villages like those in Germany, Austria, Poland, and nearby countries popping up around the tri-state area, the possibility of a European winter getaway, even if only for one day, may not have to be so implausible.
One such market is Christmas Village in Philadelphia's LOVE Park, just over an hour away from Monmouth University. Now in its seventh year and running from Thanksgiving Day to December 28, the Pennsylvanian capital's annual market prides itself in mirroring the traditional Christkindlesmarkt in Nuremburg, Germany.


The village is a quaint assemblage of more than 60 petite wooden huts filled with customary German delicacies like bratwurst and glühwein, as well as ornaments, jewelry, and other gifts from countries around the globe, all surrounding the famous LOVE statue and its giant Holiday Tree.
Food, drink, and gifts are not the only things one can expect to encounter at Philadelphia's Christmas Village, however. Visitors can also come to hear the prologue of the original Christkind from Nuremburg during the grand opening ceremony, find out their naughty or nice status from Santa Claus in his hut, write a wish to hang on the Wish Wall, enjoy a variety of live music performances every night, and take their Christmas card photos in front of the LOVE statue with a very seasonal holiday backdrop.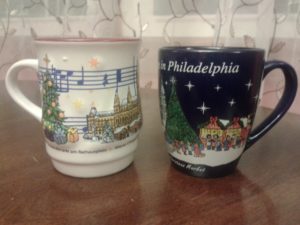 Some of the Christmas Village sponsors who have also found themselves in the holiday spirit will even have offers and contests that visitors to LOVE Park can take advantage of. German airline Lufthansa, for example, is giving away two round-trip tickets to Germany for the best photo that is taken anywhere in the market and posted on Christmas Village's Facebook page.
For Joseph DuChemin, a 20-year-old New Jersey native whose current responsibilities at home leave him unable to fulfill his dream of travelling to Europe in the wintertime, Christmas Village in Philadelphia is a perfect, cost-effective solution than hopping on a plane to Germany.
"Ever since I first read and heard about the holiday markets in a bunch of European countries, with their wooden huts, mulled wine, and novelty gifts, I knew I needed to check them out at some point in the future," said DuChemin. "Since it doesn't really seem financially possible for me to go overseas anytime soon, though, markets like the one in Philadelphia get the job done until I eventually get to experience the real deal."
With two train rides and several hours of exploring Christmas Village, DuChemin was able to traverse Europe, buy international trinkets from authentic vendors, and still make it back home before dinner.
While Christmas Village in Philadelphia is one of the better known European markets on American soil, it is by no means the only one. In the area, similar festive sites include the annual Lake Mohawk Weihnachtsmarkt on the boardwalk in Sparta, NJ, as well as the Bryant Park Bank of America Winter Village and Union Square Holiday Market, both in New York City. Even more can be found here.
Regardless of which holiday market or Christmas village you might choose to go to, the unique experience will undoubtedly whisk you away to a miniature Europe, but it will take less time to get to and cost less than a real trip there.
"Plus, no fighting for legroom on a plane," adds DuChemin.