WEST LONG BRANCH, NJ– According to Vogue Paris, fur is one of the top trends for fall and winter 2014 and 2015. Luckily, whether students are looking to jump on the bandwagon for fashion or for function, there are so many ways to cozy up to this trend as the weather continues to get colder on campus.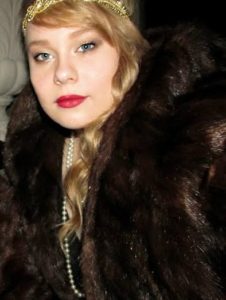 Rachel Z., a 20-year-old student studying fashion marketing and management at the Art Institute of New York City, has seen fur from head to toe on the streets of the concrete jungle and especially in the Fashion District. She offers a few insider tips for both men and women on how to incorporate it into fashion-forward outfits that will not only look good but also keep out the cold.
According to Z., everyone should invest in a thick, weatherproof fur coat in either a neutral, black, or unconventional color like purple. This will make any outfit immediately stand out while reducing the need for layering in the winter.
The fashion student also suggests wearing fur vests to accent layered casual cold-weather outfits, and draping a fur stole on the shoulders to add a classic touch to an evening dress for any occasion.
The fur trend does not stop with these kinds of outerwear, though.
"When people talk about the fur trend, they immediately think of coats and jackets," said Z. "It's easy to forget about pieces like hats, whether they're the furry retro pillbox hats of the '60s or Russian ones, gloves, and boots that are equally important. These are the pieces where style can really shine through, especially for guys."


Style tips aside, this is not the first time that fur has made it to the top of the trend cycle, and it is neither a secret nor a surprise that it is met with contempt from animal rights activists each time it does.
Countless articles, from the Huffington Post's story on Tina Fey to PETA's own blog post on Lindsay Lohan, have reported instances of fur-donning celebrities at work or at play being attacked by activists "flour-bombing" or throwing red paint and ketchup at them. The attacks are meant to send a message about the grisly way fur makes its way from the backs of animals to the shoulders of human beings.
Faux fur, which avoids the controversial conditions through which fur is obtained, may seem like an obvious alternative. However, according to Lisa Hix of Collectors Weekly, faux fur is actually extremely toxic to the environment because it is made with significant amounts of petroleum.
With all of these things to consider, how can a twenty-first century fashionista take advantage of the latest fur trend while remaining both ethically and environmentally conscious? Hix suggests opting for the variety of vintage furs found at thrift stores or even in your mother's closet.
"Old furs don't directly contribute to the profits of modern fur farms, and they're less toxic to the environment than faux furs, shown by Anna Sui and Christian Siriano on the runway," said Hix. "Fur coats and stoles from the '50s and '60s evoke the lux, decadent glamour of Marilyn Monroe and Elizabeth Taylor, but vintage furs go for a fraction of the cost of their contemporary counterparts."
Needless to say, now that thrifting has become a mainstream way to shop for unique, one of a kind pieces, Hix's advice will not be all that difficult for sartorialists everywhere to follow. And with just a quick glance at the music video for their 2012 summer hit Thrift Shop, it is safe to say that is especially true for Macklemore, Ryan Lewis, and the artists' trademark fur coats.