WEST LONG BRANCH, N.J.–The Hogwarts School of Witchcraft and Wizardry's motto is, "Never Tickle a Sleeping Dragon." Wise words, especially because you would have to run away otherwise. Hogwarts Running Club, an organization that organizes virtual Harry Potter-themed races, encourages its members to run in order to raise money for charity, but doesn't ask them to try and outrun an irritated dragon.
In fact, the nonprofit presents an altogether more frightening prospect with its own motto: "Run like You-Know-Who is chasing you." While trying to outrun the fictional character Voldemort may sound impossible, thousands of Hogwarts Running Club members worldwide have accepted the virtual challenge.
Virtual runs, or virtual races, are events that can be completed at a participant's own time, place, and pace. This is a convenient option for people like Dr. Courtney Werner, a Hogwarts Running Club member and English professor at Monmouth University.
"I like how Hogwarts Running Club is doing so much good," said Dr. Werner. "Every mile I run makes 25 cents for my charity of choice. The worst is when I'm feeling ill or don't get to move around a lot, I really feel like I'm not pulling my weight and like I'm disappointing my team. Those are really difficult feelings for me to manage, strangely enough, because I've never even met these people."

Once a member registers for the event and pays the $25 fee, they can print out their own bib on the club's website, and will be sent a Harry Potter-themed medal. The Hogwarts Running Club works on the honor system, so while members are encouraged to complete the allotted distance for each event, they do not have to prove that they have done so.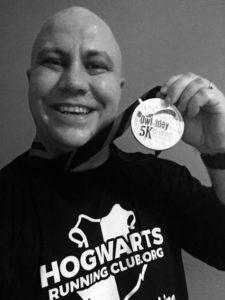 "The medals truly make it worthwhile for me," said runner Fiona Arnold of Welwyn Garden City, Hertfordshire, England. "They are absolutely amazing and real talking pieces within my Harry Potter goodies collection. The kitten plate medal for the upcoming Umbridge Run is going to be one of my favorites I think."
Hogwarts Running Club began organizing virtual runs on March 6, 2014 when it was founded by President and self-proclaimed "Headmaster" of the club, Brian Biggs.
"I had just started long-distance running a couple months prior," said Biggs, "and I wanted to start running for charity. I selected a charity to run for and began the process of asking friends and family to sponsor me. But I was running a lot of half marathons in early 2014 and my friends and family quickly stopped returning my calls or responding to my emails."
"Around the same time, an old college friend of mine introduced me to a group doing Star Wars-themed virtual runs," Biggs continued. "I thought it was ingenious. I also thought this might be a way I could raise some funds for charity, and considered which 'fandom' I liked most. I immediately thought of Harry Potter and started looking online fully expecting there to already be a virtual running group dedicated to the wizarding world. I was stunned to discover that no one had thought of it. I immediately started planning the first few events, and in March launched the group on Facebook."
According to Biggs, two years later, the club has grown to include more than 32,000 members around the world. A total of over $450,000 has been raised for nine charities.
Hogwarts Running Club's largest donation to date–$95,000–was to the Noah's Light Foundation in 2015. The money is helping to fund the battle against pediatric brain cancer and aiding families of young patients who are trying an experimental non-chemotherapy treatment.
The "smallest" amount the club has ever raised for charity was their first donation in 2014 to the Dana-Farber Cancer Institute, for which Biggs said they raised just under $11,000.
"No charity can contact us and become a charity partner," said Biggs. "Every single charity partner is nominated by a member who already loves and believes in that charity. Once nominated, we take a close look at the charity's size, mission, and financials."
"[The charity] can't be huge," he noted, referring to criteria of the nominated charities. "We like the smaller charities doing amazing things. One of our charity partners in 2015, the Brotherhood Ride, has an annual budget of around $30,000 per year. In 2015, we donated $62,500 to their mission of supporting the widows and families of fallen police, firefighters, and EMTs. Doubling an organization's annual budget definitely makes an impact."
For a club whose initial financial goal was only $500, success is a bit of an understatement. Biggs' goals for the future of Hogwarts Running Club include raising $1 million for charity in 2016 while encouraging others to lead a healthier lifestyle.
"I simply want to change the muggle-world, one mile at a time," said Biggs.