WEST LONG BRANCH, N.J.–Francie Cate-Arries, Professor of Hispanic Studies at the College of William and Mary, shared direct testimony that she gathered from Spanish citizens who were affected by the brutal practices of the Franco regime, as part of the Wayne D. McMurray School of Humanities and Social Sciences Distinguished Speaker Series on Nov. 10.
Professor Cate-Arries shared six testimonies from women throughout the province of Cadiz, Spain, whose family members–referred to commonly as "the disappeared"–were murdered and buried in mass graves in 1936 during the Franco dictatorship.
"It would delight the informants that you will be meeting today, via their photographs, to no end to know that I am standing here in your beautiful university in New Jersey and telling you their stories," said Professor Cate-Arries. "I feel honored to share these stories with you."
Dr. Alison Maginn, Associate Professor of Spanish, introduced Cate-Arries's lecture as oral testimonies that she recorded in 2013 and 2014 with family members, whose loved ones were murdered in 1936 by military insurgents of the Spanish Civil War.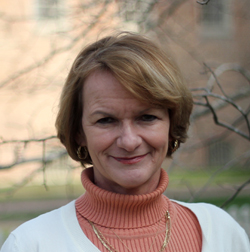 Spanish major Brendan O'Gibney explained that just a few years ago in 2008, the Law of Historic Memory was passed in Spain. This allowed public access to more information about "the disappeared," and included their identities, fates, and return to families for burial. According to Maginn, families who had memories of the atrocities committed during the Spanish Civil War only began exhuming bodies and telling their stories beginning in 2004.
Cate-Arries later elaborated on the "the disappeared," saying that people often knew where bodies exactly bodies were buried, but they were forbidden from exhuming them.
"People would plant flowers and it was a very rebellious thing to do," said Cate-Arries.
Cate-Arries also described how the Spanish Civil War began, relaying that it began in 1936 in response to the Spanish Republic's mere five-year reign. She gave chilling details about the deaths of Spanish Republic supporters, who would often yell, "Long live the Republic!" before being executed and buried in mass graves.
Luckily, according to Maginn, Cate-Arries keeps "the disappeared" alive by analyzing the testimonies of their loved ones. The oral histories give insight into "symbolic acts of rebellion" and how "clandestine memories were used to keep alive a sense of collective identity among the war's losers." O'Gibney noted this work brings a type of peace to "the disappeared" and their family members, and is enlightening for all.
"This is a good event for people to not only see and learn more about something else that is little known to the outside world," said O'Gibney. "This lecture can be very interesting to other students [not majoring in Spanish] because it is something rather recent in history that not a lot of people know about."
"Not many people know about the Spanish Civil War or the fact that it took place right before World War II," he continued. "The Spanish Civil War is a very important part of the 20th Century. It had a heavy influence on all the literature, poetry, and prose, to come after 1936. So, this is a very enlightening event."
English literature and creative writing major Sarah McGrail was expressly interested in the lecture thanks to a class she is taking this semester.
"I'm in Dr. Michael Waters' Confessional Poetry class and we're going to be looking particularly to relate the lecture back to confessional poetry and about how emotions are used in these testimonies," McGrail related.
As exemplified by O'Gibney and McGrail, students have the ability to learn from the testimonies of repression presented by Cate-Arries, regardless of their major.