WEST LONG BRANCH, N.J.–Monmouth County is seeing a recent growth of interest in craft beer with breweries that are rapidly opening throughout the county. Once regarded as a state with less-than-quality beer, New Jersey, specifically Monmouth County, brewers are working to change that image.
Craft beer is a fast growing industry around the whole country. According to the Craft Brewers Association, craft beer is seeing a huge increase in production and sales. Their 1994 data shows there were just over 500 breweries in the U.S. By 2014, there were nearly 3,500.
New Jersey has been no exception to this trend.
According to the New Jersey Craft Beer website, New Jersey currently has 38 breweries open for business, six of which are in Monmouth County. These include Carton Brewing in Atlantic Highlands, Kane Brewing in Ocean Township, Beach Haus Brewery in Belmar, Little Dog Brewing Co. in Neptune, Screamin' Hill in Cream Ridge , and Belford Brewing Co. in Belford.  In addition to this, Monmouth County has five startup breweries in various stages of opening.
"We've been growing pretty consistently with the overall movement in America," said Mike Kivowitz, president and founder of New Jersey Craft Beer. "New Jersey has other hurdles to overcome, however, like space and location, which may be factors."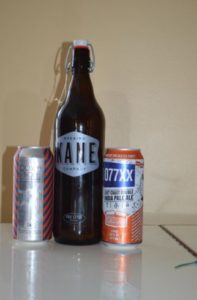 By the start of 2011, the number of purely brewing operations in Monmouth county was zero. However, by the summer of that year, that changed with the opening of Kane Brewing in Ocean Township. Within a month, Carton brewing in Atlantic Highlands opened, according to Augie Carton, co-founder of Carton Brewing.
"I hated the fact that we could get all these beers from around the country, but nothing New Jersey," said Carton, explaining his desire to fill this void and offer quality beer to the neighborhood he grew up in. "We wanted to change that."
Kevin Sharpe, founder and head brewer at Asbury Park-based Dark City Brewing, has similar reasons for opening his establishment when and where he did.
"I chose Asbury Park because I grew up in this area and I have a lot of memories around here," said Sharpe. "Outside of just personal reasons, the town has a really rich history but no breweries in its history. As a history buff I was determined to be the first and make history."
Sharpe also explained how the area is rich in culture and art, so brewing fits in well.
Despite the reasons many brewers cite for going to Monmouth County, there are challenges involved. Carton, for example, brought up three main obstacles for current and potential breweries in the area, including lack of time, space, and need.
Even though these struggles exist, many see a positive growth for the industry in the future. While Sharpe sees the industry keeping a steady pace, Carton has a slightly more positive outlook, explaining that he believes the area will see up to a 20 percent attrition each year.
It is not just the breweries that help the beer scene in the county grow, however. Bars, beer gardens, and brewpubs are all offering more and more options.
"Monmouth County has a really incredible beer scene," said Sharpe. "Especially around the shore area there are great beer bars, awesome restaurants with bars and killer food to pair with it. Plus the new Biergarten and a Johnny Macs' beer garden on the way."
This is good news, because these local businesses help to benefit the community at large.
Kane Brewing, for example, often works with other businesses in the community, mutually benefiting each other and sharing resources, according to founder Michael Kane. According to him, Kane has done work with local bee keepers for a honey saison, gotten apples, peaches, and mead barrels from local farms, and even used coffee from Rook, a popular local coffee chain, in a few different beers.
Between the new breweries and offerings from bars, the Monmouth County craft beer scene is growing at a rapid pace. Only time will tell if the trend continues. Until then, cheers!