WEST LONG BRANCH, N.J. – "Fiercely independent" – that is the principle that drives the trailblazing, non-profit enterprise of The Black Maria Film & Video Festival, which has now seen its 33rd year of touring the nation with its selection of independent films.
The festival's mission is "to promote, illuminate, and advocate innovation in the art of the moving image." It proudly stresses attention on the uncommon stories that may be told through narrative, experimental, animation or documentary. Passion and dedication for telling the story in a creative manner is evident in the exhibition, as the selected jury panel has to screen hundreds of entries and pare down to 40 to 60 selections, and then judge toward the final material.
The Black Maria Film Festival was conceptualized in 1980 by Founder and Director Emeritus, John Columbus. Columbus put forward this vision to the Thomas A. Edison National Historical Park to showcase independent films that were not presented in mainstream theaters. Typically, what the cinema presented to the mass audience was the formulaic and predictable feature length storytelling that was scripted and chronological. Columbus wanted to show the public other revolutionary ways to tell a story by concentrating on short films (also known as shorts) that usually average about 15 minutes or less.
The idea to name the festival "Black Maria" was due to the symbolic relevance of the first motion picture film studio created in 1893 by Thomas Edison in West Orange, N.J. A noteworthy aside to why the studio was called Black Maria, was from the construction of the film laboratory. With wood-planks, tar paper and a roof propped open for sunlight, it resembled a police wagon or hearse (in those times the police wagon was also informally referred to as "Black Maria").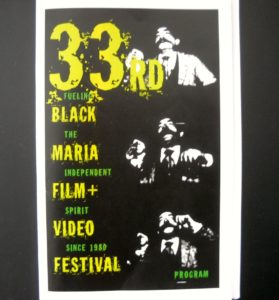 Although these films are short and considered experimental, the content and technique employed is heavy in style, substance and subject matter. The director or filmmaker is able to mark their territory with a distinctive view – letting outsiders see through their unique lens. This festival allows for exploration into innovative storytelling and embraces work that is in the same vein of the following styles: avant-garde (radically daring; conceptually original) and cinema vérité (from the French film movement of the 1960's that displayed truth and authentic behavior of those being filmed).
This festival set itself apart from others right from the start by operating as a touring event, which travels for five months or more within a single year. During this period, it will have reached an audience from various areas of the nation, from rural to metropolitan regions and numerous universities. This year's entries include a collection of work from the U.S. and across the globe (i.e. Canada, Poland, Cypress, Singapore, and other nations). It is also acknowledged by organizations such as the Academy of Motion Picture Arts and Sciences and featured on National Public Radio.
The stories in this year's festivals included a huge array of themes/topics such as: a tale about a Chinese-American's father who was held in a POW Japanese work camp as a teenager, being an activist in a religious or other social cause, a suicide attempt, a simulated terrorist attack, a public hanging of an Iranian girl accused of adultery, selflessness and empathy, children in a Russian orphanage, and the journey of a young girl developing into a woman.
The stories depicted onscreen enlighten and engage viewers within their communities (both local and international). While some material may be light and humorous, other pieces may be suited for a more mature audience, with serious, dark matters to ponder.
It is an annual event that kicks off at its home base at New Jersey City University in Jersey City, N.J. (with a tour stop at Monmouth University!).
A free screening was held on April 1 at Pollak Theatre. If you missed out on this year's exhibition, you can catch it next time around — next year! Take a look at the video to hear from Monmouth Professor, Donna M. Dolphin, and feedback from a couple audience members. Professor Dolphin is the liaison who brought the festival to Monmouth University and was formerly one of the jurors.
For more information about this film festival visit their site at: http://www.blackmariafilmfestival.org/
Video by Bounlad Phengsom.