WEST LONG BRANCH, N.J. – Jade King Carroll's revival of Alice Childress' "Trouble In Mind," is a powerfully scripted play that challenges the concepts of race and stereotypes. Carroll reunites with Two River Theater in Red Bank, and other cast members are returning to the company, including: Brenda Pressley ("In This House"); Robet Hogan ("On Borrowed Time"); and Hayley Treider ("Present Laughter").
"Trouble in Mind" transports the audience to 1957, backstage of a progressive New York City theater with a recently integrated cast. It is the first day of rehearsals of a Southern drama called 'Chaos in Belleville.' The opening scene brings out Wiletta Mayer (Brenda Pressley), a seasoned black actress, smiling radiantly and thrilled at the prospect of acting in a new play. She breaks out in song for a line or two, testing the vibe of the theater – she is pleased and confident.
Wiletta's happiness fills the room – for the time being.
Wiletta holds the play together as the matriarch figure. Relying on instinct and years in the theater industry, she imparts sage advice onto the newcomer, John Nevins (McKinley Belcher III). As the play unfolds, she begins to doubt her commonly held beliefs of her place as an actress and how she has maneuvered obligingly all this time, to appease her white associates. She voices this longing firmly, and in a moment of realization, she must try to sever the politically charged strings that have been pulling her, claiming she just "wants to be an actress."
This play-within-a play structure is a comedy-drama that is part satire, part realism, which allows for the effect of the audience to truly feel like a "fly on the wall" whenever the cast vents or has an intimate conversation while others exit the room.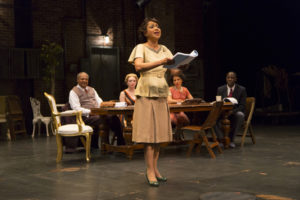 The second act opens with more lightness and laughter. Sheldon Forrester (Roger Robinson), who knows the ropes of the theater life, is an intelligent man. Nevertheless, his character for this new production is relegated to being a mindlessly passive father. In a moment of flared tensions during rehearsals, as the Director, Al Manners (Steven Skybell), tries to resume control, Sheldon asks with precise comedic timing, "Am I still whittling this stick?"
Sheldon affectionately pulls in the audience's attention (along with the characters onstage) when he shares a memory of a lynching, from his childhood years – everyone in the theater listened raptly during this scene.
There were plenty of points of contention to keep the audience reflective throughout the show. When Al tries to make his plea to Wiletta on the specific direction that the characters of his production must conform to, a rage of bigotry appears. He tries to coax her and says subtly, "We don't want to antagonize the audience. Don't think Negro – think people." In other words, think of adapting to the majority white audience, whether it makes sense or not to the characters.
Despite the tensions, there's also hope for change on the horizon, to rectify the wrongs of the exploitative depiction of blacks. Childress brings viewers this hope, through the optimism and openmindedness of the other characters and more specifically, from the younger generation (John (previously mentioned) and Judy Sears (Hayley Treider)).
Childress was a groundbreaking playwright, as the first African American female to have a professional production in New York City in 1952 ("Gold Through the Trees"). Her foray into theater began as an actress in the American Negro Theatre (ANT) from 1941 to 1949. In her pursuit toward the betterment of society, she turned to being a playwright, as to reveal to the world the racial dissonance she witnessed, as well as breaking other general stereotypes, such as with gender.
Childress wrote with truth, integrity and compassion – oftentimes with assertive female characters that took stances against inequities. In her mission, Childress paved the way for future African Americans to make their mark in theater.
The play moved well, with sharp and seamless dialogue interspersed with the right touch of heart, wit and emotion. The cast was splendid as well – each one worthy to receive a degree of attention. The scenic designs (Alexis Distler) and costumes (Karen Perry) were also clean and crisp, with accurate attention to detail: displaying a vintage applause machine and each stitched piece of wardrobe was a vivid replication of the 1950's.
The characters in "Trouble in Mind" must wrestle with external influences which affect their internal codes of conduct. Luckily, there a perfect amount of tension. Over half a century after this play premiered, it still remains fresh and thought-provoking.
Check out the video of audience comments on the play from opening night on April 11.
Two River Theater seeks to extend educational and insightful civic engagement by holding discussions centered on their productions. Here is a photo of Roger Robinson and Brenda Pressley the leads in this play at the panel discussion: "An Exploration of Justice" on April 13.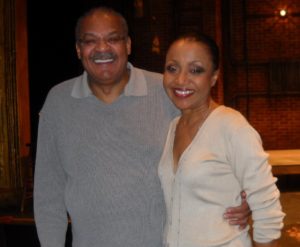 For more info call about the staged productions or the theater, call (732) 345-1400Get a glimpse of a preview of "Trouble In Mind" by the following link: or visit: http://www.tworivertheater.org/.
Video published by tworivertheater.
Two River Theater is in its 20th anniversary. Their last show of this season is "Third" by Pulitzer Prize Dramatist Wendy Wasserstein. Tickets start at $20 and are $65 for premiere seating on weekend evenings and Sundays; tickets are $24 for those under 30 years old (best available seats). 
Video by Bounlad Phengsom.