WEST LONG BRANCH, N.J.– On April 28, Food and Water Watch presented the movie, "Tapped", in Anacon Hall. The event was co-sponsored by Monmouth School of Social Work. The documentary (by Directors Stephanie Soechtig and Jason Lindsey) examines the financial and environmental consequences of the bottled water industry.
Released July 31, 2009 in the United States, the film takes on industry titans such as PepsiCo and Nestlé Waters. The film visits a town in Fryeburg, Maine where water mining by a Nestlé factory is running the water supply the town needs dry, while an existing law keeps the townspeople from stopping them.
The film shows tests run on bottles the company uses for its products, and the findings contain potentially harmful chemicals!
"Tapped" asks the audience to make a stand and take steps to improve on the problems addressed.
The documentary also focused on the amount of bottles recycled. It states that by the year 2030, two-thirds of the world will lack access to clean drinking-water because it is being treated as a 'commodity.'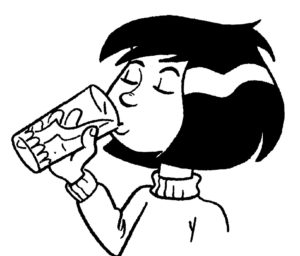 "Tapped" was awarded Best Documentary by the Anchorage International Film Festival and Eugene International Film Festival in 2009.
Avi Offer, NYC Movie Guru, described "Tapped" as "Illuminating, well-researched and vital. Whether or not 'Tapped' will help to cure the general public's apathy toward evolution and environmental causes, is a whole other matter."
Drink at your own risk?
According to Bisphenol A's homepage, Bisphenol A (BPA) is an industrial chemical used primarily to make polycarbonate plastic and epoxy resins – both of which are used in applications that make our lives easier, healthier and safer every day. The FDA currently supports BPA as non-harmful, however "Tapped" argues the studies done were run by companies who stand to profit from BPA.
Dr. Frederick Vom Saal, a University of Missouri Biologist who won a 2010 Heinz Award for his research on industrial chemicals, concluded in his study that BPA is "one of the most potent toxic chemicals known to man."
Taylor Wieczerak, 23, who last year graduated from Ursinus College said, "I wouldn't doubt for a second that the companies are 'screwing' people…I'm very much against bottled water, but honestly I was unaware of the health risks. Funding an industry that simply bottles something we have an abundance of, with the illusion of it 'being better' is very problematic."
He continued, "I personally have a bottle I refill daily with simple tap water, and there's nothing wrong with it. I think [the scenario] can be improved by people buying filter(s) and a (permanent) water bottle and taking (the) bottled (products) off the market."
Perspective of a MAV-erick
Mary Harris, a Specialist Professor of Public Relations at Monmouth University and Executive Director of Monmouth Area Vegetarian Society (MAVS), said, " I am not a fan of anything packaged in plastic material, including bottled water. I make every effort to avoid consuming bottled water; however, I am also realistic, and I realize that this is not always possible. Even though I try to avoid purchasing bottled water personally, I think that (it) has an important purpose in disaster relief situations."


With regard to her efforts to avoid using plastic bottles, Harris stated, "My husband and I just recently purchased a Berkey portable water filter with an added fluoride filter attachment. We also purchased a to-go Berkey for travel and camping. These items are also good to have on hand for emergencies. You can literally filter water from a river or stream.  To me, this was a worthwhile investment, because clean, safe drinking water is the essence of living a healthy life."
(To find out more about these portable filters, you can visit  Berkey Filter's website.)
Harris added, "I recommend that students at M.U. research local, national, and global issues regarding clean drinking water. This is a very real concern, and water contamination is a serious issue that many individual citizens are not aware of. I also recommend the newer documentary film, "Last Call at the Oasis," which is currently available on Netflix. We just screened this film in one of my classes this semester. I encourage all students and faculty to purchase spring water packaged in glass from a smaller company such as Mountain Valley Spring Water, if they need something disposable. People might also consider investing in a reputable water filtration system to filter tap water from wells and municipalities, and to avoid disposable plastics. Plastics are harmful to the environment and to the overall health of every living being on this planet. Every piece of plastic that was ever created still exists on this planet somewhere. If that is not alarming, I don't know what is. There are more sustainable ways to drink our water!"
Where do we go from here?
On Tapped's website, the film crew suggest that one way for people to support the cause is to visit "Think Outside the Bottle," a corporate accountability international campaign working to challenge corporate control of water and promote, protect and ensure public funding for our public water systems.
To pledge to Think Outside the Bottle means: Opting for public tap water over bottled water; and calling on public officials to cut taxpayer spending on bottled water and support strong public water systems.
(For more information, you can visit Tapped's homepage at http://www.tappedthemovie.com/). 
Still slide-show created by Shawn McBride.