WEST LONG BRANCH, N.J. – Monmouth University's Enactus Club excelled into the quarterfinals at the Enactus National Exposition. Over 200 schools from across the country competed to present their projects before a panel of judges consisting of Enactus administrators as well as executives from companies such as Pepsi, Coke, Wal-Mart, Unilever, Bic, and Liberty Mutual.
At least one school from every state was represented at the competition, including seven of the 25 active members in Monmouth's club .
Last year, the club only made it to the regional round, but after a long year of hard work, they placed in the quarterfinals after multiple rounds.
Nick Gencarelli, the club's CFO and Treasurer, shared his reasoning for this year's success, stating,  "We had a solid group of members who did well on the projects, put a lot of hard work, effort, and research into making the presentation. We had good ideas and put them into action."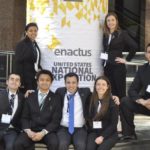 The team presented the projects which they have worked on throughout the year, most notably their two primary ones — Race to Recycle and Redeem Her.
Race to Recycle was a local event the team sponsored at the Anastasia Elementary School in Long Branch. The project consisted of motivating the fifth grade class in a recycling competition for a grand prize of a pizza party.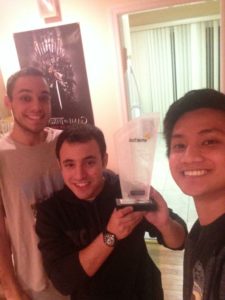 Gencarelli said, "We had great results! Over 1,400 plastic bottles were recycled. From those plastic bottles, we are projecting to use them as greenhouse planters at Soup D'shore. The plan is to grow produce that can be sold to local markets."
The second project, Redeem Her, helps women from a prison in Clinton, N.J. Gencarelli explained the project. "We put them through a hospitality management program that gave them the power and skills and provided them a job at the end of the six week program. It was looking to help keep women from going back into prison and integrate them back into society."
The projects were judged by the panel on the following criteria: sustainability, numerically calculated, and they must have a widespread impact. This is all in accordance with the Enactus goal, which according to their website is, "using the power of entrepreneurial action to transform lives and shape a better more sustainable world."
Mel Meneses, the President of the Monmouth Chapter, shared how the team progressed this year. He said, "We had to do more projects because going into the competition, we knew we needed more solid results. We also started much earlier in the year."
According to Meneses, the Enactus panel wants to see more quantifiable results and statistics in the teams' presentations. "Last year we didn't really have that, but this year we had concrete numbers and statistics that could be recorded and measured."
With regards to the other team members, Meneses praised the work each member contributed. "In such a short amount of time, we really came together. For some of them, it was the first time they presented in front of large audience without any aides. Everything had to be memorized. We stayed up really late constantly practicing. They really put the necessary work that was needed."


Gencarelli also commented on the teams results. "We surpassed my expectations. Compared to other schools, we simply don't have the same [financial] means. However, we were able to use what we had, to do really well. Presenting wise, we did amazing. It increased everyone's public speaking abilities." He went on to say, "I'm proud of all our members and all the effort everyone put into it. It required a lot of hard work throughout the year. It took a lot of dedicated members to make this happen."
The competition also provided opportunities for the students to meet with professionals, network, and potentially interview for jobs at a career fair. At the end of the week long conference, the Monmouth Enactus team brought home a trophy for their accomplishments.
The Enactus club at Monmouth is relatively new and their accomplishment at the National Conference was quite significant. While Meneses and Gencarelli will be graduating this May, they both expressed their excitement for the future of the club and passing the torch to the younger members.
Meneses was thrilled to end his time at Monmouth on such a high note. "I thought after three years of being president and going through a lot of things, all the hard work, it was a…feeling of achievement. It was a great way to go out."
Video created by Will Brucella.