WEST LONG BRANCH, N.J. – The MLK Jr. Unsung Hero Award recognizes individuals from Monmouth University and the greater community who exemplify Dr. Martin Luther King Jr.'s spirit, life, teachings, and commitment to service. Those who win this award share their dreams for a greater good, and demonstrate their dedication and passion to achieve them.
Each year the MLK Jr. Unsung Hero Award Committee reviews all of the nominations and selects a Monmouth University student, a Monmouth University employee, and a Monmouth County community member, as stated in the emails and nominee forms sent out by Heather Kelly, the Assistant Director of Student Activities for Multicultural and Diversity Initiatives.
Monmouth students Kennisha Kelly and Kaila Lane hosted this year's MLK Tribute Program, titled "Echoing his dream…" Kelly and Lane welcomed guests to their seats and to partake in a dessert sampling provided at each table. Throughout the program, they introduced each speaker and awarded the nominees and recipients.
Following the welcome, Monmouth student Brianna Golden recited an original poem she wrote, titled "History of Heroes." Golden's poem told the story of a young African American girl who believed she could not achieve great things because of the color of her skin, but her mother reassured her that she should be proud of her heritage, and the blood and tears that were shed to achieve equality. The poem concluded with, "So daughter, never give up your dream to be somebody great because of the physical characteristics that you see. You never know, the beauty that God has given to you may be used to continue to make others free."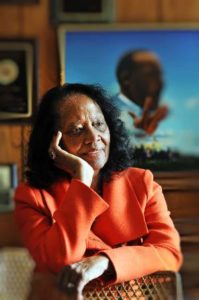 Succeeding Golden's powerful poetry, the keynote speaker for the evening took the stage: Theodora Smiley Lacey.  She is a strong, passionate woman who has been involved in civil rights since childhood. Lacey's mother was a childhood friend of Rosa Parks, and Lacey was a lifelong friend of hers as well. In addition, her father helped to recruit MLK Jr. to become the pastor of Dexter Avenue Baptist Church in Montgomery, Alabama. Lacey and her husband were well acquainted with Dr. King, and have remained close friends with the King family ever since.
Lacey and her husband moved from the south in order to provide better opportunities for their son, however, they still found prejudice and discrimination upon their move to the north. A few weeks prior to Dr. King's assassination, he had joked to the Lacey's that they were abandoning him in the south, but they reassured him that there was still a lot of work to be done up north in states like N.J. "It was clear that being black was still an issue," said Lacey. Their community in Teaneck, N.J. still had segregated school systems and a housing market that disadvantaged African Americans.
Through personal strength and the strength of the community around them, the Lacey's were able to help Teaneck become the first school district in the United States to voluntarily and peacefully integrate its public school system. In addition, they formed a community organization that strove to create equal housing opportunities. Lacey shared her personal connection to great civil rights leaders and also her very own involvement in the civil rights movement right here in N.J.
Theodora Lacey explained how the concept of skin color affected her throughout her life, and still does to this day. She acknowledged that the struggle continues, and we all have the choice to make, whether to live together peacefully, or continue violence and separation. She challenged her audience to further the cause of MLK Jr.
Lacey especially encouraged the students in the room to learn as much as they possibly can to improve their lives, the lives of their families, and, most importantly, to share that knowledge with those who have been less privileged. Lacey concluded her speech by remembering words of Dr. King, who challenged not just college students or graduates, but everyone to strive for greatness:


"Everybody can be great…because anybody can serve. You don't have to have a college degree to serve. You don't have to make your subject and verb agree to serve. You only need a heart full of grace. A soul generated by love."
After these moving words, the presentation of the Dr. Martin Luther King Jr. Unsung Hero Awards began. First, Kelly and Lane presented certificates to those who had been nominated for the awards. The nominees included: Karen Van Natten, Jennifer Henning, Lisa Wilson, Adrienne Sanders, Joseph Patten, Andrea Hope, Marta Jahn, Sandra Griffin, Michelle Scott, Tina Paone, Karl Gordinier, Mary Harris, John Buzza, Lisa Alloco McCloskey, Barbara Arrington, Jacqueline Leming, Megan Morrone, Alexandra Tuyahov, Lisa Harris, Maggie Zelinka, Geena Basso, Alejandra Bolanos, Lucy Russo, Elizabeth Sidlow, Kelly Craig, Ryan Murphy, Shannen Wilson, and Brooke Lichter.
Next, the MLK Jr. Unsung Hero Award Recipients were awarded a plaque commemorating their accomplishment. This year, two Monmouth University professors were selected for this award, Laura Kelly of the Marjorie K. Unterberg School of Nursing and Health Studies and Tsanangurayi Tongesayi of the Chemistry, Medical Technology and Physics Departments.
The Monmouth University student recognized this year was Thomas Beaufort, a junior Health Studies major who is Student Government Senator and the Community Service Chair of Phi Kappa Psi, among other leadership roles on campus.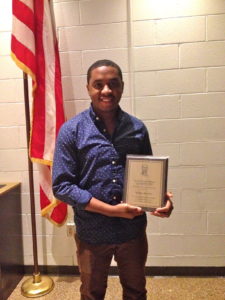 The Monmouth County community member who was recognized at this year's program was Adam Lowy, the Founder and Executive Director of Move For Hunger, a nonprofit organization that works to strengthen community food banks.
Athletics Professor-In-Residence, Claude Taylor, gave the tribute program's closing remarks. Taylor asked the audience to imagine what Dr. King's influence would be like if he still were alive today. He echoed the words that Mrs. Lacey stated in her own speech, and assured the crowd that although we have come a long way to achieve equal rights, there is still much more work to be done, "Tonight we celebrate the lives and work of people who embody Dr. King's legacy. However, each of us can and should find our own way to spread the idea that peace, social justice, equality and love are within reach and worth struggling for every day."