(The Verge) – This holiday season, Monmouth University's Student Government Association (SGA) in collaboration with Marilyn Ward, Coordinator of Service Learning and Community Programs, will help the MU community give to families in need and make their holidays a bit brighter.
Gift trees will be located in the Jules Plangere Center, the Magill Commons Dining Hall and the Rebecca Stafford Student Center. Ornaments on these trees will provide the names and ages of gift recipients, as well as several gift options for this particular individual or family.
The trees will be set up on Nov. 14 and a sign-up sheet will be provided so that SGA can keep track of who is responsible for what ornaments. Gifts can be dropped off outside of Student Services on the second floor of the Student Center up until Dec. 10.
The Giving Tree Committee includes freshman SGA members who promoted, organized and distributed trees and ornaments. After gift collections are finished, the committee will personally deliver them to their designated recipients.
Victoria Wright, a committee member explains the importance of events like the Giving Tree, "The giving tree is important because helping those who are less fortunate is part of being a good citizen," she explains, "Personally, I am passionate about the giving tree because it is important for me, someone who is truly blessed, to help those who are not as lucky. I cant wait to know that I helped make some little's kids holiday better just by doing a simple thing like buying a gift." Wright is very passionate about the Giving Tree, as are the other committee members.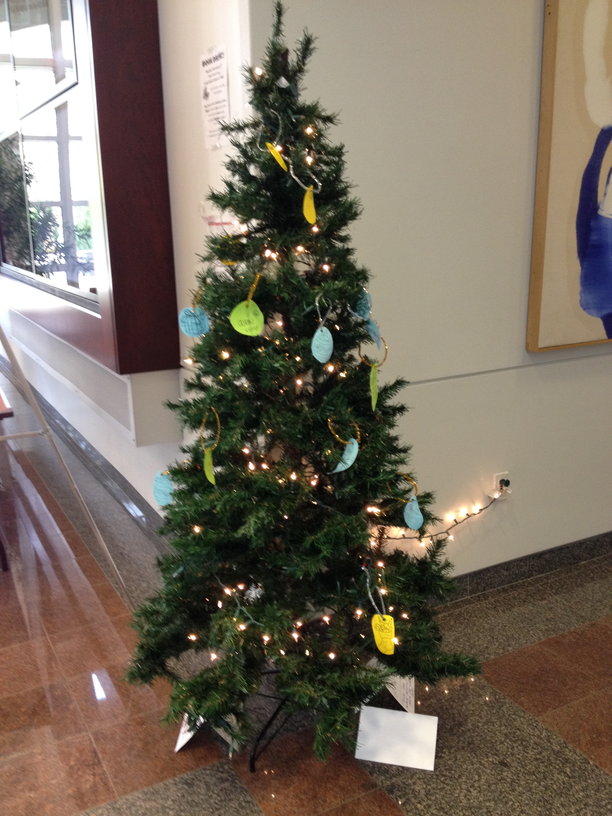 Brianna Golden has participated in the Giving Tree before, and she is glad that Monmouth has provided the opportunity for its students to do so as well. She said,  "In years past, I have participated in a Giving Tree event in my elementary school. (It) was on a much smaller scale, so I am happy that at Monmouth we are able to reach out and to provide for more people."
Not only does the Giving Tree offer students the chance to become involved, but it also unites the University as a whole for the holiday season, and supports a great cause in the process. Committee member Danielle Romanowski will be participating for the first time this year, and she is excited about the opportunity to help others who are in need throughout the community. "The giving tree impacts MU and the surrounding community in a very positive way. It helps the community realize that Monmouth is a university with generous students that want to help the less fortunate," said Romanowski.
By participating in the Giving Tree, Monmouth Students can truly appreciate what they have, and learn valuable lessons along the way, "Monmouth students can learn the lesson of happiness. It's not always about what you receive during the holiday season, it's about what you give. We can realize how we are truly blessed and fortunate to be here at Monmouth," said Garrett Brown, another committee member.
Kaylie Mazza, also on the Giving Tree committee, encourages the Monmouth community to participate, saying,  "The Giving Tree is a good thing because it is a way for students to participate in the holiday spirit. We get to give back to the community, help out children all over, and just do a good thing. It captures the essence of the holidays."
As the fall semester begins to come to a close, and the holiday season draws nearer, remember to visit one of the Giving Tree locations on campus to give a gift to someone who is truly in need. Visit the Giving Tree event page on Facebook for more information.
So while you have time to relax at home for thanksgiving break, or you're out battling vicious shoppers on Black Friday, think about taking a gift ornament along with you in order to spread the holiday spirit throughout the community.