WEST LONG BRANCH, N.J.  — As a lifelong baseball fan, it was a bit saddening to read Johnathan Mahler's editorial in the New York Times, "Is the Game Over." As much as it pains me to say, Mahler does bring up some valid points. It appears that in this day and age, football, hockey, and basketball are always "the talk" among sports fans (especially college-aged), rather than baseball.
Some sports "fans" complain that baseball is too slow and that the regular season is insignificant because of the 162-game schedule. Additionally, Mahler talks about how the game isn't culturally "popular" because it is not fast-paced, violent, and represented through certain celebrities who may attend the games.
Another fundamental reason why baseball has taken a back-seat to these other sports is because of where the other sports are, in the course of their seasons, when baseball begins. In other words, by early May, when baseball season is still in its infancy, the NBA season is winding down and the "race for eighth" is in full swing. Hockey season is also approaching playoff time, but baseball games are still in their "meaningless" stage. Through the month of June, the NBA playoffs are winding down and The Finals begin. Some fans may rather watch a fast-paced basketball game, which determines a champion, instead of a baseball game that can be viewed as just 'one out of 162.'
Even in October, when the baseball playoffs are on, they need to try and compete for viewers of the NFL games (which are now three times a week, thanks to the newest expansion of Thursday Night Football). This makes it difficult for baseball to tread water, especially since football games (even in October) are so meaningful.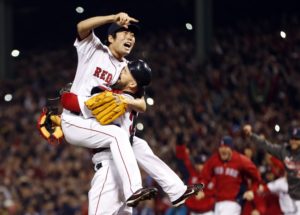 The MLB playoffs are also not a one game 'do-or-die' scenario (aside from the expanded Wild Card game and the occasional Game seven). If the baseball season were to be played during a period of time when other sports were not in the latter part of their seasons, baseball could probably thrive more, especially with the younger demographic.
Jennifer McGovern, a Professor of Sociology at Monmouth University, said that "Baseball really thrives locally. If you look at the metropolitan area, you will see extremely strong support for the Mets, Yankees, and Phillies. However, on a national level, football overtakes baseball because there are less regular season games, the games are more significant, and fantasy football really grabs fans interests throughout the nation more so than baseball does."
This is certainly a valid point, for with  fantasy football, it is much easier to set your lineup and become invested in each game, versus baseball, where the regular season at times seems irrelevant.  Heck, some of the games are not even televised nationally.
Now, this is all true, but, baseball-affiliated figures have made an effort to make the game more exciting. Working on "MLB Tonight" (on MLB Network) over the summer, interesting observations came my way. On this show, they point out key moments and big plays, sort of like a baseball version of "NFL Red Zone." This would attract casual fans who enjoy the game but feel like watching simply takes too long. The only problem is that the MLB Network is a channel you have to pay for with most cable providers!
One of the letters to the New York Times Editor, was a complaint suggesting that baseball ticket prices are way too high. But football and even basketball tickets are much more expensive than baseball. For example, a ticket in the upper deck for the November 17th Packers vs. Giants game at MetLife Stadium was selling for $110, even though the Giants were 0-6 at the time!
At least when the Mets are doing poorly, you can sit in the upper deck for $10 or less. Baseball certainly retains a better value, if you are going to attend the event in person. However, the problem still remains that baseball is not as exciting (in some fans' eyes) nowadays, because it is not as fast-paced, edgy and violent. Individual games do not carry as much weight when thinking about playoff positioning and standings; it is a six-month effort to snag the pennant.
Overall, as a reader with baseball taste, Mahler's editorial was saddening. However,  if you can stick it out and watch your team as much as possible, you start to develop a connection with certain players. Soon, you'll start to really develop a liking for that player, and continue to follow them off the field (Paul Goldschmidt, anyone?).
Still, it's upsetting that in reality, most of America probably doesn't even know that he is a baseball player. Wake up, America. Baseball's still our pastime.