SHREWSBURY, N.J. –  'Tis the season for giving, and what better way to give than to get involved with a local non-profit organization?
One of Monmouth County's little-known organizations is Pick Your Paw Animal Rescue. Pick Your Paw is essentially a network of volunteers who rescue dogs from kill-shelters and other unsafe situations.  After the dogs are rescued, they are placed in foster homes, given the medical care and love that they need to recuperate, and then they can move on to a 'forever home.'
Pick Your Paw is not the kind of rescue that provides dogs with basic care, and sends them off to anyone willing to adopt. One of the rescue's founders, Tammy Boland, explained, "I think what makes us different than some of the other rescues is that we are very much hands on with our dogs and our fosters. Since we are a relatively small rescue we really get to know each dog in our rescue. This helps us to make a better match."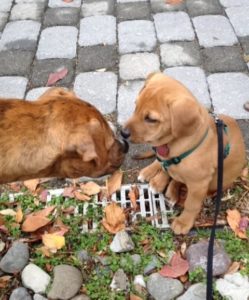 Monmouth University senior, Anna Chamberlain, has spent time volunteering with Pick Your Paw. "I think what really makes the organization stand out is their passion," she said. "The creators of the organization are hands on in everything that they do, and it really shows that they care."
Pick Your Paw makes dogs' lives their priority. Plenty of people are willing to adopt dogs, but the dogs need a home that they can feel comfortable in for life. All of the dogs have different traits and personalities, and Pick Your Paw finds the best homes for them.
"These rescue dogs have been through enough in life already and we want them to be treated with respect, dignity and to be loved as a family member," said Boland. "We take our responsibility seriously and want the best for our rescue dogs. You don't have to live in a mansion or have a huge fenced in yard to adopt from us but you do need to love your pets, provide force free training, veterinary care, security and stability to them."
Monmouth senior, Sophia Nappi, is also involved with Pick Your Paw. "Their number one goal is what will be best for the dog," she said. "They do everything they can to make sure the dog will 100% loved by who takes them in."
Pick Your Paw was created in 2009 by a small group of determined, animal-loving individuals. Boland worked as an individual rescuer before making it official. Her passion for rescue began with a 9 year old German Shepard named Ella, who was unwanted because of her age, returned to a breeder and was to be euthanized the next day. Boland had driven to the breeder with the hopes of finding a puppy for her mother, but went home with Ella as well.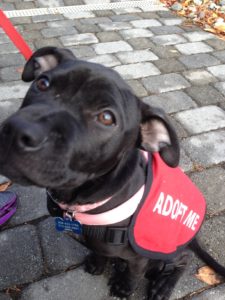 "It was the best decision I have ever made. Ella turned out to be such an incredible dog. She adored the kids, was great with my other dog and became a huge part of our family," said Boland.
After Ella was adopted, Boland's brother was inspired to adopt an older German Shepard as well. She went to a local shelter to look at one they had in mind.
"This was my first time walking down a kennel row in a shelter. I fought back my tears and found the Shepherd my friend told me about. Crash was a handsome sable Shepherd. He was emaciated, stank to high heaven, and had severe ear infections. I was appalled that he sat in a shelter so sick and not being treated," said Boland.
Boland's brother adopted Crash, nursed him back to health, and gave him a happy life. It was after this that Boland knew she needed to rescue dogs. "Ella and Crash opened my eyes (and my family's eyes) to just how many hidden gems are left to die in our shelters. Once your eyes are opened, there is no turning back."
"This is my passion and every life that we save makes all the heartache, stress and worry worth it," said Boland. "I am incredibly happy and proud to be a part of Pick Your Paw and making a difference in the dogs' lives that we rescue."
Pick Your Paw, along with the Monmouth County Underdogs, will be holding a fundraiser this Saturday, December 7 at Camp Bow Wow in Eatontown from 10 am to 1 pm. There will be pictures with Santa, and a meet and greet with some of the dogs that are up for adoption.
This holiday season, consider donating to Pick Your Paw. If you or anyone you know is interested in fostering a dog, or adopting a life-long friend, you can find more information by visiting the organization's website. A little bit of your help could save the life of a furry friend!