(The Verge) –
Two years of frequent, extreme weather events have heavily impacted the U.S. and other parts of the world.
These incidents include super storms, flooding, droughts and wildfires that have been prevailing over the earth's natural environment in record numbers.
Most recently, Super Storm Sandy, which struck the East Coast during October of this year, is currently the second costliest storm in the U.S. with around $62 billion in damages and losses that may increase as time goes on, according to the Huffington Post.
"I've never experienced a storm of that magnitude," Rosie Wandel, a senior at Monmouth University, said. "I thought I was going to lose my house but luckily I didn't."
Not only has the East Coast seen the effects of extreme weather, but the West Coast has also been experiencing severe, consecutive storms. In northern parts of San Francisco, flooding has been a main concern after a period of five days of downpour producing 15 to 20 inches of rain in the area.
In contrast, droughts and wildfires have affected residents in other parts of the U.S. "The biggest drought in half a century parched the Midwestern United States, sent food prices climbing and knocked 0.4 percentage points off third quarter GDP growth," reported The Washington Post.
These events are not isolated incidents in the U.S., other parts of the world are feeling these impacts as well.
Droughts have spread throughout parts of Australia, Russia and East Africa. Torrential downpours, which trigger severe mudslides, have hit Rio de Janeiro, and flooding has washed over Pakistan and Thailand in the last few years, according to National Geographic.
The causes of these relentless events are ambiguous. Some experts say these occurrences might be the result of the earth itself.
Two bodies of water, El Nino and La Nina in the Pacific Ocean, predominantly affect the weather and climate cycles, some experts say.
"During an El Nino a giant pool of warm water that normally sits in the central Pacific surges east all the way to South America; during a La Nina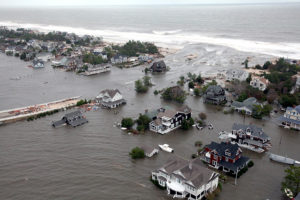 it shrinks and retreats into the western Pacific," according to National Geographic. They went on to say, "An El Nino tends to push drenching storms over the southern U.S. and Peru while visiting drought and fire on Australia. In a La Nina the rains flood Australia and fail in the American Southwest and Texas-and in even more distant places like East Africa."
These pools of water impact different areas of the world significantly when deviations from their normal oscillations occur. "El Niño and La Niña can have noticeable weather impacts in the USA, which vary from season to season," according to USA Today. "A strong El Niño can result in a stormy winter along the West Coast, a wet winter across the South, and a warmer-than average winter for parts of the North."
The earth's happenings may be causing these extreme weather events; however other experts say human influence could also be the reason for the shifting weather patterns.
"New research suggests that global warming is causing the cycle of evaporation and rainfall over the oceans to intensify more than scientists had expected, an ominous finding that may indicate a higher potential for extreme weather in coming decades," reported The New York Times.
Global warming is an increase of temperature on the planet due to a rise in the level of carbon dioxide. This rise is caused by human activities such as, burning fossil fuels and deforestation.
Residents of the U.S. have thoroughly discussed the instances involving global warming. Some have claimed it is a serious problem which must be taken into consideration presently before a collapse in the environment occurs, while others disagree stating that it is not a problem that needs to be resolved currently.
"Humans can adjust to changing problems in the future," James Carney, a junior at Monmouth University, said. "We'll use our ingenuity and technology to solve the global warming issue when it starts to really impact us."
Regardless of when society should begin to deal with the issue of global warming and how it is affecting our environment, scientist say it is difficult to accurately determine whether or not global warming is what is causing the extreme weather.
"It's harder for scientist to say anything definitive about a single drought or wildfire or hurricane," according to The Washington Post. "But climatologist can say a few things with a fair bit of confidence. If we keep emitting greenhouse gases at our current rate, droughts will likely become more severe and longer-lasting. Wildfires in the Western United States will flare up more frequently. Sea levels will rise, making storm surges more devastation in places like New York City," reported The Washington Post.
Not only are the causes of extreme weather unclear, but situations surrounding natural disasters are open-ended as well. Many affected by the extreme weather primarily notice the devastation, losses, and financial impact of storms that hit their area but fail to recognize the benefits it may produce.
"I had to evacuate to a school shelter because I live really close to the beach," Belinda Rao, a junior at Monmouth University, said. "When I came back there was a boat on my front lawn and some of my friends' houses were gone." She said the devastation made the terrain  "incredibly unrecognizable."
In addition to the economic, environmental and emotional problems caused by natural disasters, abstractly, some individuals and companies may profit from such devastating occurrences.
Expert Senior Meteorologist, Ken Reeves, said the economy can also be helped by the weather. "Extreme weather can lead to high damage costs, but contractors and suppliers benefit by repairing the damage and supplying the material to repair the damage," Reeves said.
"A snowstorm in Colorado can attract skiers from Texas and the Southeast, which would be positive," Jeff Lazo, an NCAR (National Center for Atmospheric Research) scientist, said. He continued to say, "However, increased heating costs and impacts on transportation caused by the snow storm would be negative.