(The Verge) – For the New York Mets, this off-season is huge. Money is coming off the books and the front office finally has the financial means to help the ball club significantly. At least that was the initial belief. Over the past few days, the 'positive thinking' has turned to legitimate concern. Here is why.
Mets General Manager Sandy Alderson's rebuilding plan is taking longer than fans hoped. Notes from the Sandy Alderson press conference, when he was first hired back in 2010, show that he had/has a plan. He needed to wait until after this season concluded (when both Johan Santana's and Jason Bay's contracts came off the books and are no longer on the Mets' payroll to free up cash to spend). In the mean time, he has made savvy trades and has bolstered the farm system up to prepare for this year. Great, right?
But then, Scott Boras ripped the Mets, saying the team is like 'NASA but has no astronauts.' Yep, the Mets have continued to be a joke among the baseball world, and now there is Boras taking cheap shots at them.
Of course, he has his own agenda. He wants the Mets to be involved so that his clients get better contract offers. The Mets are a big market team from New York. Having them involved in contract discussion drives up the price for his free agent clients and puts more money in his pocket.
Unfortunately, Alderson has hinted at another cheap off-season for the Mets and he explained his organization would not be pursuing a $100 million player this winter. The squad, as of now, say they're prepared to spend $30 million this off-season, down from $35-40 million reported a month ago.
Gregg Cambareri, a Monmouth University student and life long Met fan, said, "For this to be a successful off-season, Alderson needs to do something, anything, to show the fan base this team is taking a new direction. The Wilpons are known for being cheap and struggling financially, and Alderson sometimes takes the blame for that which is unfair. Whether it's a trade or a free agent signing, there needs to be new faces at Citi Field when the calendar hits April."
Also, when ace Matt Harvey undergoes successful Tommy John surgery  and is expected to miss all of the 2014 season, expectations lessen. With Harvey out, there are many who doubt they will contend in 2014. The ball club also has to fill many needs in order to be competitive–two outfielders, a shortstop, first baseman, backup catcher, a veteran reliever, and at least one starting pitcher.
The most glaring problem with the franchise seems to be from the Bernie Madoff scandal and the settlement with a Madoff trustee for $162 million. They, like many others, were victims and the team owners, Fred and Jeff Wilpon, have been subject to fan abuse ever since for not spending money to improve the team. As a result, fans have been clamoring for the Wilpons to sell the team. They have continued to speak publicly about how they will not sell and how the aftermath of the Madoff scandal will not affect the Mets moving forward.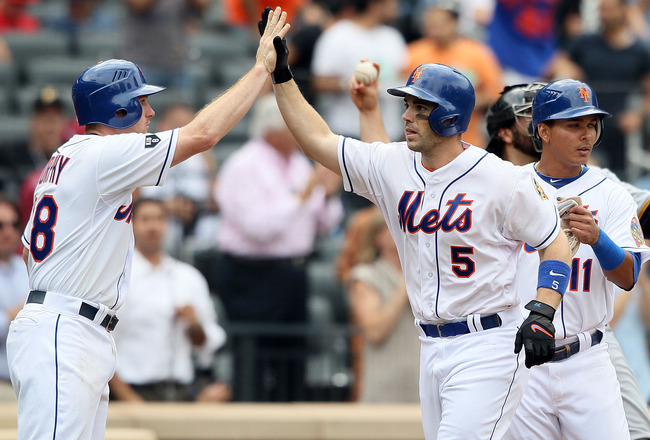 However, it's hard to believe the Wilpons, especially when the budget for the roster continues to decline. Additionally, the Wilpons previously insisted the Madoff scandal did not affect their finances, until a lawsuit against them was announced to the public. Anyway, the payroll is down from $142 million to around $85 – 90 million. (That's when they use the excuse they are 'changing the way they operate and are instead building the farm system to generate a sustained, winning team for years to come' instead of signing big name players.)
Well, the Mets haven't been in the playoffs since 2006 and the fan base is presumably growing tired of hearing all this jabbering. Alderson said the 2014 off-season is when they will finally be players again in free agency, but so far it has only been inaction.
The predicted lineup for next season, at this point (and based on circulations of the rumor mill), is as follows: 1) Eric Young Jr., at $ 2 million.  2) Chris Young, $ 7.5 million, playing right field. 3) David Wright, $ 20 million, manning third base. 4) Jhonny Peralta, $ 15 million, positioned at shortstop. 5) Khris Davis, $500,000, in left field. He would be acquired for Ike Davis. 6) Lucas Duda, $3 million, at first base. 7) Travis d'Arnaud, $500,000, behind the plate. Finally, 8) Juan Lagares $500,000, covering center field.
The five man rotation would be Jonathan Niese, Zack Wheeler, Dillon Gee, Phil Hughes, and Aaron Harang for a combined $17 million. The bullpen would be much of the same with closer Bobby Parnell's $ 3 million.  His new setup man, Aaron Crow, signed for $2 million and acquired for Daniel Murphy. The internal options, such as Victor Black, Josh Edgin, Gonzalez Germen and Carlos Torres, round out the 'pen (all paid roughly $500,000 each).
The bench may be:  catcher Miguel Olivo (signed at $4 million), outfielder Andrew Brown ($500,000), with infielders Josh Satin ($500,000), Wilfredo Tovar ($500,000) and Justin Turner ($800,000).  The final spot goes to Matt Den Dekker, outfielder, at the minimum $500,000.
The total payroll would be around $ 79.8 million. That is still anywhere between $5-10 million short of what the payroll may actually be.
DISCLAIMER: Do not expect all of these moves to happen.
It's all speculation at this point; expect surprises. The Mets have to be active though and show their fans that they are serious about competing in 2014. Time will tell.
Gregg added, "Sandy Alderson is smart and won't give a monumental contract to a player who won't deserve it, regardless of the pressure of the front office to succeed. The free agent market is weak and the asking prices are ridiculous. This fan base is hungry for something, but wait until after the winter meetings in December before the deals start to shape up (the franchise)."