WEST LONG BRANCH, N.J. – Now that fall break is officially over, some feel like the semester is just flying by, while others feel as though the workload will never end. Being halfway through the semester can make it difficult to find the motivation one may have had while starting off the new school year. Luckily, there are a few ways to keep that motivation going for the entire semester.
1. Go outside. As simple as it may seem, a little bit of fresh air can make a big difference. We at Monmouth have the privilege of living right by the beach, so why not take advantage of it? If the beach is not your cup of tea, consider taking a walk to Rook to grab yourself a coffee before going back to your studies. University junior Tianna Fougeray can testify to the benefits of this; she said, "my roommate and I take walks to Rook whenever we need an extra boost to get through the day. It's a bit of a walk but a rewarding one that's even more fun with a friend."

2. Go to the gym. Fitness may not be for everyone, but it has been proven to be an excellent stress reliever. Working out is an underrated way to get your mind off of those note cards you've been staring at for hours and give your brain an opportunity to re-energize.
3. Watch an old movie. Everyone wants to feel like a kid again; especially when the workload gets tough. Why not take a stroll down memory lane and revisit some of your old favorite films? A throwback could be just what you need to unwind before diving into a pile of homework. Bustle has a good list of throwback movies on Netflix worth checking out.
4. Make a school playlist. If you haven't already jumped on the Spotify bandwagon, I recommend you do as soon as possible. With your student ID, it's only $4.99 a month for access to nearly every song in existence. Putting together a playlist of some pump-up jams is the perfect way to reignite your motivation. They also have a "Discover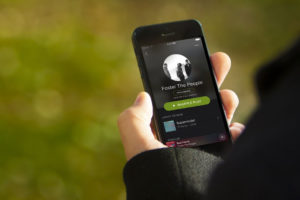 Weekly" playlist formulated based on the songs you currently listen to that is updated every Monday, giving you a great way to find new music to boost your mood.
5. Reward yourself. This is probably the easiest and most fool-proof way to stay motivated. Have a crazy difficult exam coming up? Tell yourself if you study hard and get through it, you can treat yourself to Surf Taco for lunch the next day. Finding ways to reward yourself for all your hard work is the perfect way to get yourself through the semester.
While the semester may be halfway done, there are still endless amounts of homework assignments, papers, and exams yet to come. The semester isn't going to get any easier, but you can make it through as long as you remember to take care of yourself and stay motivated.