WEST LONG BRANCH, NJ– Monmouth University's dedication to furthering the education of service men and women was recently recognized by The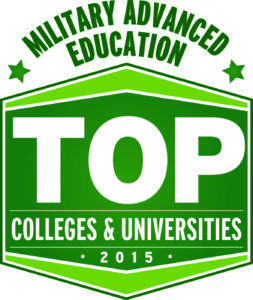 Military Advanced Education in the 2015 Guide to Colleges & Universities. The University was also named one of the best colleges for veterans by U.S News & World Report.
The Military Advanced Education guide serves as an annual report of educational institutions that go out of their way to cater to military service men and women. The results are taken from a questionnaire about the military and supportive policies of more than 600 educational institutions. The 2015 guide evaluated schools on their military culture, financial aid, flexibility, on-campus support and online support services.
Monmouth University has earned recognition as a top school for Veterans by offering multiple military friendly programs. "Our active military and veteran students bring an invaluable diversity of real-world experience to our residential coastal campus," said Paul R. Brown, president of Monmouth University.
The Military Bridge, one of the military friendly programs that is offered at Monmouth University, gives military personnel who would not ordinarily meet the University's admission requirements a chance to improve grades for the opportunity to enroll.  The University also offers the Servicemembers Opportunity College program, which allows veterans to translate military service experience into credit-bearing courses in order to improve their college education.  Monmouth is also a proud participant in the Yellow Ribbon Program.