WEST LONG BRANCH, N.J. – Monmouth University hosted Memorias – Geography of a Decade: Chile 1973-1983, an exhibition of 52 serigraphs, posters, and photos, from September 14, 2016 to October 14, 2016 in the University library. The exhibit highlighted social, political, and cultural significances in Chile in recognition of Hispanic Heritage Month.
After 34 long years of being tucked away in boxes, these original serigraphs, posters, and photos, made their debut in the United States at the Monmouth University Library.  These incredible pieces of art are attributed to painters José Balmes, Guillermo Núñez,
Gracia Barrios, who are all recipients of various Chilean National Art awards. Other painters whose work was on display include Joan Miró, Alejandro Marcos, Ernest Pignon-Ernest, Eduardo Berroeta and Jack Ottaviano. The photos in the exhibit are courtesy of Gamma News Agency photojournalists, a press company that was popular in Chile during the seventies.
These one-of-a-kind serigraphs, posters, and photos tie together art, theatre, and politics to represent a difficult time in Latin American history in hopes of sparking conversations about social issues, political movements, and cultural significance in Latin America.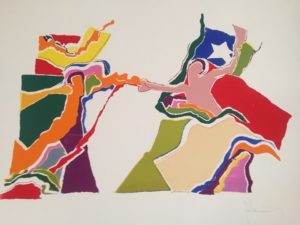 The exhibition follows the history of the Chilean military after the 1973 military coup. During that time, Gustavo Gac-Artigas, a writer, actor, theater director, playwright, and editor was touring with his theater group on their last tour in Chile.  The play the group was performing at the time was a representation of resistance to the military coup.  Gustavo was arrested for this rebellion and then sent to Paris to be exiled.  He was held at the Union de Paris upon arrival, where he eventually restarted his theatre group, Théâtre de la Résistance-Chili.
While Gac-Artigas was performing and becoming a Chilean prisoner, Priscilla Gac-Artigas, Gustavo's future wife and current professor of Latin American Literature at Monmouth University, was protesting on behalf of him and fellow political prisoners.
In 1980, Gustavo was at Paris' annual social activism celebration, La Fête de l'Humanité, where he met Priscilla while she performed at the festival.  A little while later, Priscilla joined Gustavo's theater group, and from there, what would become the Memorias exhibition began to take shape.
The exhibition traveled with the Théâtre de la Résistance-Chili all over Europe. They visited France, Switzerland, Yugoslavia, and Tunisia performing and displaying the exhibition in addition to the 18 international theater festivals they took part in.
However, the very last time the artifacts from this unique exhibition were displayed was in Tunisia during their international theater festival of Hammamet in 1982.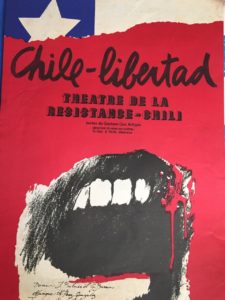 After two years, the exhibition was set to return in Chile in 1984, but this attempt unfortunately failed.  Because of that, all these amazing serigraphs, posters, and photos were boxed up and eventually ended up stored in Priscilla's childhood home in Puerto Rico.
Monmouth University was the first location to see these artifacts and visual stories from Chile since they were retired and boxed up in 1984.  This exhibition provided a rare opportunity for members of the community to experience history in ways that went beyond traditional classroom learning.  The history that lies within this exhibition is unbelievable, and very much a treasure that needs to be shared.
The context of these pieces gave audiences deeper insight to the story of the Chilean military coup.  The posters in the exhibition represent the pain of the wounded, and the pain of the painters who were exiled from their homeland.  The serigraphs illustrate the painters' feelings towards what was happening to the place they grew up.  These artists portrayed such strong sentiment and emotion through their work.
This exhibition reveals the true terror that citizens had to face in 1970s Chile, but also gave recognition to the talented artists whose work was displayed. Hopefully, Memorias- Geography of a Decade: Chile 1973-1983 will continue to be displayed internationally, and will not be boxed away again.
https://www.youtube.com/watch?v=cx2Adzmszqc&feature=youtu.be