WEST LONG BRANCH, N.J. – As my college career is coming to an end, I'm looking back at all of the memories I've made on Monmouth's campus, and can't help but feel a little nostalgic. I've met some of the most amazing people and experienced some of the best moments throughout my college career. These past four years have been some of the most life changing ones I've ever experienced.
I made so many friends that I will cherish forever. My freshman year feels like it was yesterday. The memories made in a dorm room that looked like a prison with cinderblock walls (I wouldn't want it any other way) will never be forgotten. All those late nights talking about absolutely nothing and laughing at absolutely everything still make me smile at the thought of them. There might be some people I may not stay in touch with forever, but I'll keep a little piece of them with me wherever I go. Then there's the people I know will be by my side until I'm old and wrinkly, and for that, I'm forever grateful for you, MU. Whether I met you on the first move in day, or during my senior year of college, thank you for being a part of one of the most unique periods of my life.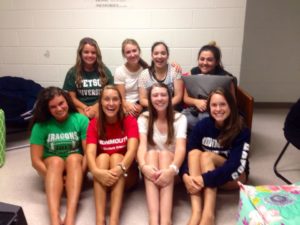 One of the best things about this school is some of the amazing professors I've been able to meet. Being a communication major, I'm biased to think that the faculty in this department may be the best at the school. I feel lucky to be able to say I had a close relationship with a lot of my professors. The class sizes being so small really helped build that relationship, which would be impossible in bigger schools. Because of the nature of our relationship, I know that my professors wanted me to do well, and made me feel like I could talk to them if I needed anything. It's a really great feeling knowing that someone is rooting for you, and wants to see you to succeed just as much as you do.
Maybe the thing I'll miss that most about college is learning. I know you don't stop learning until the day you die, but college is a period of time where your sole purpose is to get educated. Your goal is to retain all this information and then form your opinions based on your knowledge. The classes I've taken have shaped me as a person, and made me realize what I value and why.
The scariest part about this whole situation is the fact that my life no longer has a plan after May 10th. I can never structure my life knowing that I'll always start school in September every year. That is such a weird thought, and I don't really know how to feel about it. I may have an idea of what I want to do, but sometimes I feel like I don't have any clue. I try not to worry about it too much because I know somehow I'll be okay.
So if you're a senior reading this, it's okay to be freaked out, but give yourself a little pat on the back. You made it. Whether you know what's next or you don't, you'll get to where you want to be eventually. The memories you made and the people you met will be with you your whole life.