WEST LONG BRANCH, N.J. – Students from Monmouth University and local high schools filled the seats of Pollak Theater for Project PRIDE (Promoting Responsibility in Drug Education), a program sponsored by the Office of Substance Awareness on Dec. 3. The presentation featured stories from one current inmate and two former inmates, and how drugs led them to make decisions that changed their lives.
This marks the eighth year Monmouth University has held the presentation on campus. The event was cosponsored by Greek life, the Counseling Student Association, the HERO campaign for designated drivers and the Social Work Society.
Suanne Schaad, Substance Awareness Coordinator, gave a brief introduction to the program and introduced Michael Ritter of the New Jersey Department of Corrections, who led the rest of the program.
Ritter informed the audience that there are currently around 23,000 individuals incarcerated in New Jersey. Project PRIDE aims to educate young adults to prevent them from becoming a part of this system.
Ritter introduced the first inmate, Pierce, who went on to share his story. Pierce has been in state prison for the past six years for armed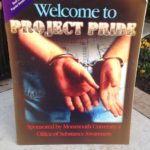 robbery charges. Pierce came from a good family life and played college football until he injured his shoulder. He was prescribed oxycodone for his injury, and quickly became addicted. He ended up dropping out of college, and moved home to work. Pierce had a successful job as the head pastry chef of a restaurant and worked with his identical twin brother, who was the sous chef. During that time, Pierce's brother had also become addicted to oxytocin.
Even though they were making money at their jobs, the brothers robbed drug dealers, and eventually, Pierce robbed a pharmacy. They began selling the drugs and robbed four other pharmacies before they were arrested.
What affected Pierce the most from his time in prison, was the loss of a close relationship with his brother.  After not seeing him for six years, Pierce has learned that his twin brother has a cancerous tumor in his chest.
Ritter introduced the second speaker, Faith, who was a former inmate. Faith had a comparatively harder childhood. She grew up with alcoholic parents, her mother's abusive boyfriend and an abusive cousin. In her preteen years, Faith turned to drinking and drug use.  What started off with prescription drug abuse turned into heroin use.
After a long line of struggling with drug addiction, Faith was arrested after she stole her mother's car and money. She served a 34 month sentence and has been out of prison since April. While Faith was in prison, her father became sick with cancer and passed away. She expressed the heartache of not being able to say goodbye to her father, and having to come home from prison without him there.  "I'm not saying this for anyone to feel bad for me; I'm saying it because it's real," Faith said. "I know as long as I don't use drugs, it can only get better."
Ritter introduced the last speaker, Michael, who was another former inmate.
After struggling with drug use in high school, he dropped out and started selling drugs. Eventually, armed robbery and firearm possession landed him in prison. However, he has made significant changes in his life since returning home. "I decided I'm not going to revert back to the things that got me incarcerated," Michael said.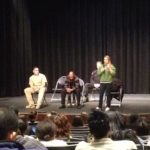 He stressed that if you put enough effort in, it is possible to recover from these poor life choices. "I'm living proof because it happened to me. I'm a business owner; I'm doing well for myself. The choices that you make really do affect your life in the long run. It affects your life in the long run and it affects the people that you love."
After the speakers concluded, Ritter opened the floor for questions from the audience.  One student even shared his own story of his struggle with drug abuse.  The issue of peer influence was addressed.
"You're only going to go as far as the people you surround yourself with," said Ritter in response.
When the question arose as to why it took a trip to prison to make the speakers realize their poor choices, they expressed that in their younger years, they simply did not care about the consequences. They only cared about the short-term gratification of using drugs.
"It's like having blinders on… I never went out trying to become a drug addict; it just kind of fell on me through my prescription. I was never told 'you might need some help when your prescription runs out' or 'you could become addicted to these things,' so when I didn't have them, I didn't feel right," said Pierce.  "I didn't care about anything else in my life."
Each of the speakers' stories was heartbreaking and eye-opening. Pierce, Faith and Michael had all made mistakes involving drugs that led to a prison sentence which they expressed regret for. They shared that no matter what background you come from or what your current situation is, only one bad decision can affect the rest of your life.
http://www.youtube.com/watch?v=qogOI-4ts6c&feature=youtu.be