WEST LONG BRANCH, N.J. – With so little time to prepare for the NFL draft, the New York Giants need to make moves and find an area of focus. Do the Giants worry about the future of the franchise, or go all in for 2017? All of the moves the Giants have made in free agency the last two years would show that the Giants are all in; however, there are people questioning if they need to find the quarterback of their future. But the Giants still have many needs, and with Eli Manning's closing window, there is only so much the team can focus on. They need to find depth on the defensive line, stabilize the offensive line, find their middle linebacker, tight end, and finally lock up Odell Beckham Jr.
The truth is, the Giants shouldn't waste their first round on any quarterback in the 2017 NFL draft. There are questions about Eli Manning dwindling, and possibly having a QB that can sit behind Manning for a few years. However, none of the quarterbacks in this year's draft are worth the 23rd pick. They should win now, and worry about their Manning successor when the time comes. It is smart to think about it now, but there will be better prospects at the quarterback position in the future, and plenty of time. With a stable offensive line and run game, Manning would have less pressure and more time to have plays develop. The Giants could finish off this decade with Eli Manning. Also, when the Giants drafted Manning, they didn't have a guy at the time, they signed Kurt Warner to be a mentor and then Manning became a starter within his rookie season. Regardless, if a rookie quarterback needs time, they have to prepare like the first string quarterback is going down any play.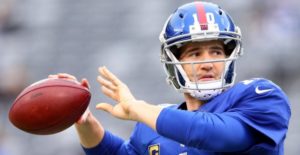 The Brandon Marshall and Rhett Ellison signings indicate that Manning will have an extra weapon that will open up many opportunities. With Odell Beckham not being double teamed as much, it'll take pressure off the passing game. Rhett Ellison was a big time blocker for the Vikings and can be a powerhouse as a fullback. There is no guessing as to how that will impact Ereck Flowers position on the offensive line. However, it is imperative for him to step up as a left tackle, or move to the right side. Depending how they feel about the offensive tackles in the 2017 NFL Draft, there is only so much they could do.
The Giants spent big money on big time players for their defense. They have Jason Pierre-Paul, Olivier Vernon, Damon Harrison, and Janoris Jenkins all locked up until 2020. Last off season, Jenkins got a 5 year contract for $62,500,000, Harrison received a 5 year contract for $46,250,000, Vernon got a 5 year $85,000,000 contract. This past year, Pierre-Paul received a 4 year contract for $62,000,000. All of these signings helped a defense that was dead last in 2015 become a top 10 defense in 2016. However there are still needs and these blockbuster contracts could only pay off with depth.
The Giants lost Johnathan Hankins, who played a major role against the run with Harrison. Without a 3-technique in the mix, and a lack of depth at defensive end, the Giants need to address the defensive line just as much as the offensive line. Without depth, players are on the field longer and are more likely to be injured. No other defensive end duo played as many snaps as J.P.P. and Vernon. With a third guy in the mix, there is room for a fresh body to get towards the quarterback and keep the line healthy for when December comes around. When the Giants had three premier defensive ends, they were able to have blitz packages every defensive coordinator dreams off. They also went to the Super Bowl with several defensive ends in their arsenal. In 2007, they had Hall of Famer Michael Strahan, Osi Umenyiora, and Justin Tuck. In 2011, the Giants had Umenyiora, Tuck, JPP and Mathias Kiwanuka. Adding depth on the defensive line would make a huge impact.
Sticking towards the defensive side of the ball, there has been what's felt like a dark cloud on the middle linebacker position in New York. The last general at that position was Antonio Pierce, who retired in 2009. For 7 seasons, the Giants have had a revolving door at middle linebacker with 9 different starters: Jonathan Goff, Greg Jones, Chase Blackburn, Mark Herzlich, Jon Beason, Jameel McClain, Uani Unga, Jasper Brinkley, and Kelvin Sheppard. With second year player B.J. Goodson predicted as the starter, this trend may continue unless they find their general on the field. With the draft having several versatile linebackers available, their may be an answer to this ongoing problem.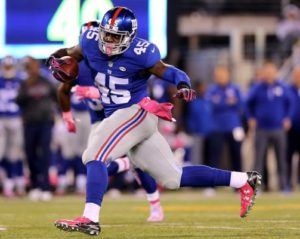 Another position that has diminished so much since the days Eli Manning and Jeremy Shockey were a powerhouse duo is the tight end position. Every great quarterback has a trusty tight end that will make clutch catches in the trenches. Will Tye and Larry Donnell just haven't cut it. With this draft having an extremely underrated tight end class, the Giants may end up with a David Njoku, Evan Engram, Jake Butt or Jordan Leggett. With so much focus on defensive prospects in the draft, there are gems being overlooked. And having another weapon in the offense will make the passing game lethal.
The running game needs help. Shane Vereen won't stay healthy, Paul Perkins is a two down back. So having a 3rd down power back to create a one-two punch will give Manning room to develop plays and make the offense have a balance. The run game was so bad last year that it made the offense one dimensional, which also made opposing defenses have an easier time against the Giants. With a stable offensive line and run game, it will impact the whole team positively. With a solid run game it will keep the defense off the field, and kill the game clock. With the line and run game, it will create more opportunities in the passing game. There are mutual interests with Legarrette Blount but there are also great runningbacks in this year's draft. Regardless what route the Giants go, they have options to create a really good runningback corps or finding their next franchise runningback.
Finally, the Giants need to lock down Odell Beckham Jr. They are exercising his fifth year option and locking down a franchise receiver like him will be a great deal to the team. Give it time, and Odell Beckham Jr. will be the greatest receiver in the Giants franchise history. He has had growing pains, but signing Brandon Marshall will influence Beckham for the better. Marshall had growing pains early on in his career as well, and he could be a big brother to Beckham. Regardless of what the headlines might say, the Beckham possibilities are endless. If he consistently gets the same numbers he's been getting, he will potentially be a Hall of Fame inductee, and his game can continue to improve. Beckham is the greatest player they took a chance on this decade, and if the Giants take more chances, they will find impact players that will make just as much of a difference.